Hello elite fitness,
Quick shot out to the foundation of this forum, Steve and Dylan gameli.. Thank you for being the trusted source of information about bodybuilding in a industry full of shysters
After months of aas research , that's right gentleman.. Months and about a decade of training naturally. I'm at 30 years old ready to get on the sauce
Last week I got my blood work done to know where am at but more importantly it help me troubleshoot if something goes south once a start introducing foreign hormones to my body
I learned about most of compounds out there and what I learned is the key to longevity in bodybuilding is moderate dose usage of steroids that favors toward lean tissue building like primo, var, eq stacked with trt dose test, blood work pre and post cycle, off time to cleanse, pct.. etc
I also found that other forum tends to reccomend high meathead dosage ie 1g of testosterone and a bloating compound like dbol, I refused to listen to those advice because looking like just another steroid user who is bald, bloated and got acne isn't what I seek, my aim is toward the classic aesthetic look
I decided to hop on trt dose testosterone at 250mg week for 12 to maybe 14 weeks and then off to pct, I do have equipoise on hand but since is my first cycle I would keep it simple and naturally work my way up to other low andro/ high LBM building compounds
So please purists..
Take a look at my blood work and tell me what you think
Much love to you all bros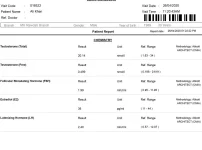 Sent from my SM-A310F using
EliteFitness mobile app