Everyone knows that you must eat better and exercise more to burn fat. Por el contrario, you won't lose any fat if you're not eating clean or working out. Por Consiguiente, it's important to follow a diet and training program that's appropriate for your goals, allowing you to shape your desired body and see serious results over time.
Anybody would love to have a chiseled body that draws stares out in public. And it's easier to reach this goal by using a compound that allows you to train harder and lose body fat faster. Certain training compounds can hack your system in a way that helps you tap into your energy reserves and get maximum results.
Eating less obviously helps you get a better body as well. Sometimes people take compounds during their diet to help curb their appetite (a.k.a. appetite suppressants). Some also use stimulants that provide them with additional energy and more drive to exercise more when caloric intake is low (a.k.a. suplementos pre-entrenamiento).
The whole reason to take stimulants, appetite suppressants, fat-mobilizing compounds, and any other supplement is to get the most out of your gym time, so you can get faster and more-efficient fat burning out of your efforts.
When it comes to amplifying the results of your efforts and helping you shed body fat much quicker, a T-3 PCT and clenbuterol stack not only succeeds in doing all those things, but it also adds another element to the equation by speeding up your metabolism.
This allows you to burn fat faster, and at a higher percentage, from the same activity level. Aside from the immediate fat-burning effects, the T-3 PCT will prime your Thyroid gland for optimum output, allowing you to keep your progress for much longer than a regular cutting cycle, where you're not using a post-cycle therapy agent for your thyroid gland.
To put it simply, you should be able to burn more body fat today using this stack than just from Clenbuterol alone. And the fat you cut will be easier to keep off in the month following the cycle.
But you must keep working out and eating clean, because you can't fall off the path and think you'll keep your 6-pack sharp. You must stay the course man!
To better understand this stack, let's look at what Clenbuterol and T-3 PCT can both do.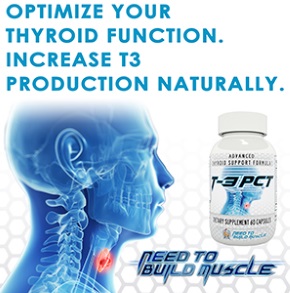 T-3 PCT

–

What Is It

,

Bro

?

T-3 PCT is not a drug. Rather it's a mix of 14 active ingredients comprised of minerals, vitaminas, los aminoácidos, and extracts that work in synergy to help you burn fat, by optimizing the way your thyroid gland functions. Most people who have trouble with weight usually have some thyroid issues at the core of the weight gains. And many times, it's just deficiencies in vital nutrients important for the Thyroid gland to manufacture proper amounts of T2, T3 and T4 hormones. This imbalance can make you too fat, prevent you from losing weight, or even keep you too skinny and unable to put on mass.

A properly functioning thyroid should allow you to gain copious amounts of muscle, while burning up stored fat for energy when your caloric needs call for it. Having a properly functioning thyroid (o no) can affect the way you look in a major way, because it's a system in your body that impacts your body's aesthetics severely.

Sí, it does seem like some sales pitch that these ingredient in the bottle will make you thyroid function at proper levels. But you're probably deficient in some nutrients in your daily diet to begin with. You need to get these in your system to allow your thyroid the proper substrate to make the amazing set of hormones it makes. And T-3 PCT doesn't just have the essentials that you're lacking, but also some additional ingredients that can manipulate the thyroid into optimal mode for staying lean and muscular.

The cool thing is that N2BM recognizes the need for these compounds in every bodybuilder's diet, so they put a single product together with all of them in it. Ahora, if you tried purchasing these ingredients separately, it would cost you hundreds of dollars. But when you buy them all together in this 1 botella, it's extremely affordable.

Here's a list of each ingredient per serving and what they do:
Vitamin B12 100mcg

:

Without proper B12 in the body

,

your thyroid won't function properly

.

This means B12 helps speed up metabolism to normal levels

,

so you that can burn fat

.

Iodine 150mcg

:

Without proper Iodine

,

our thyroids will fail to function at all

.

This means that you won't be able to burn fat without it

.

Magnesium 200mcg

,

Zinc 6mg

,

Selenium 200mcg

,

Manganese 2mg

,

Molybdenum 50mcg

:

All these minerals also are extremely important for proper thyroid function

.
So already, you can see that T-3 PCT is a potent natural supplement that will boost thyroid output to get your metabolism going where it should be for keeping a lean physique.
But this isn't all it has. N2BM has added other compounds that stimulate the thyroid into the proper environment for burning fat and promoting protein synthesis for lean muscle mass.
L-Tyrosine 300mg

:

This amino acid is crucial for being a messenger in the body to increase thyroid output

.

Schisandra Powder 240mg

:

This compound helps combat fatigue and suppresses cortisol

.

Cortisol is a nasty stress hormone

,

creating stress not just from life but also the stress from workouts

.

Cortisol increases fat gain

,

so we definitely want to lower that

.

Every anabolic steroid on the market lowers cortisol as well

. De hecho,

one way that steroids increase mass is by slowing the breakdown of muscle through cortisol suppression

.

Bladderwrack Powder 50mg

:

A very healthy super seaweed that boosts iodine in the body and combats fatigue and thyroid problems

.

Cayenne Pepper Powder 30mg

:

Boosts metabolism and energy

.

Also helps absorb all these amazing ingredients

.

Kelp 38mg

:

Another super healthy seaweed loaded with minerals that will boost thyroid health

.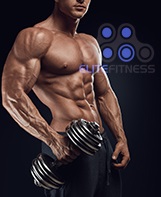 Clenbuterol
The 2nd component of this stack is the drug clenbuterol. Clenbuterol is used around the world to treat asthma, although it has never been approved for this use in the US due to a plethora of other medications for the same purpose.
Because Clenbuterol is a gifted thermogenic drug, people have discovered the incredible fat-burning potential that it offers over the years and have used it to great success within the past couple of decades. Celebrities like Britney Spears and Lindsay Lohan have famously used clenbuterol, and bodybuilders – from amateurs to pros at the highest level – have included it in almost all their cycles.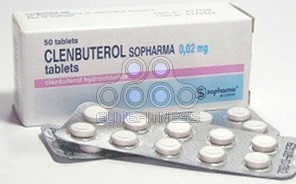 How Does Clenbuterol Work

?

Clenbuterol is a sympathomimetic that works on our body's nervous system and taps into several receptors. Clen stimulates the beta-2 receptor, which not only clears up our breathing but also improves the metabolic rate of the individual. It also increases our body's temperature. The beta-2 stimulates the mitochondria of the cells to release heat, enhances metabolism, and helps us burn fat at a much-faster and more-efficient rate.

This means when you exercise, you will multiply the caloric expenditure for the same amount of effort, so you burn more fat as energy. Users also report that clenbuterol helps lower appetite, meaning you'll eat fewer calories and less often. These effects both allow you to burn more calories with the same effort and curb your appetite, so you can remain in a state of expending stored calories with less effort.
How to Dose T-3 PCT and Clen in This Stack
Using either T-3 PCT or clen alone would be potent enough. But using them together in a stack is extremely powerful! I recommend running this stack for 8 weeks for someone new to this.
T-3 PCT should be used at 2 a 3 capsules per day with this stack for the entirety of this 8 weeks cycle. Taking all three capsules in the morning on an empty stomach is fine. The Clenbuterol is trickier, aunque, because it's a stimulant that you want to spread your dosage out with and stop taking around 6pm. If you sleep at 10pm, por ejemplo, it might ruin your night of sleep.
Clenbuterol is also famous for losing its fat-burning effects after only 2 semanas de uso. You must understand, bros, that Clenbuterol was developed an asthma medication. And it's great for this purpose, because it keeps working to clear your airways even as the fat-burning effects vanish. It was only through coincidence that people found Clenbuterol shreds fat by the pound in a short amount of time. But the real use of this drug was never meant for dieters.
To harness the full fat-burning powers of Clenbuterol, you should use it 2 semanas en y 2 semanas de descanso. This means that you're using it for 4 fuera de la 8 semanas. You'll see considerable progress in just those 15 día, and you can always switch to something like N2Burn for the other 2 weeks that you're off.
N2Burn will also help curb your appetite and burn more calories off as heat. The Eria Jarensis extract in N2Burn is a stimulant comparable to Clenbuterol, and some bros even say it's as strong as DMAA, which is now banned. It also contains Ephedra V., which is a great fat burner.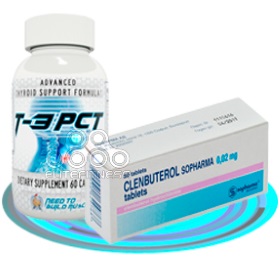 How Much Clenbuterol to Take

?

Start with 40mcg per day of clen to assess tolerance. Then up the dosage by 20mcg every 3 día, until you reach what you feel is enough. Every person will feel different, and some may feel as though 60mcg a day is enough; others can go as high as 120mcg.

Once you reach your desired dosage, leave it there for the remaining part of your 2 semanas en. Don't think that your weight really matters, because I have seen 240-pound linebackers who couldn't handle 40mcg, and they dropped it to 20mcg. A cheerleader on the same team, who weighed about 110 libra, could handle 60mcg with no problem.

You must assess tolerance yourself through trial and error, and we recommend seeing a doctor for a full checkup of your heart and vital organs before putting your body through any strenuous fat-loss programs.

Please remember, bros, that you should stop using Clenbuterol after 2 semanas en total. Switch to N2Burn at this point and continue taking the T-3 PCT for 2 semanas. Then start over with your clenbuterol at 40mcg a day and get off the N2burn. But stay on the T-3 PCT and so on.

The T-3 PCT continues as long as your cutting cycle is scheduled. It's only the Clenbuterol that needs to be cleared out of your system every two weeks, so your that body can never adjust to it, and you always lose lots of fat during the time that you're on.
Side Effects of This Stack
T-3 PCT does not have any side effects, because all the ingredients are natural and safe to use. If you do go over 5 capsules in one serving, then you might get a slight headache and feel flushed. But it goes away after an hour or so.
Please take only 2 o 3 cápsulas al día. You can try taking 4 capsules in the morning after you've tried at least one full bottle. Most guys will see the benefits very quickly at only 2 tapas de diarios. Taking 3 helps out but can also diminish returns at that point.
As far as Clenbuterol goes, it has side effects, which are dependent upon how high of a dosage you use. This is why I mentioned above to only use a starting dosage of 20mcg every few days, so that you can gauge the sides.
Side effects to watch out for are jitters and a wired feeling associated with its stimulant nature. Some users complain of insomnia, and others complain about shaky hands and sweating. If you start noticing high blood pressure spikes, you should drop the dosage back down immediately. Long-term Clenbuterol use has been reported to cause heart issues, so it should not be a tool for yo-yo dieters.

Where to Buy This Stack
T-3 PCT and N2Burn are both sold at n2bm.com.
Clenbuterol will need to be purchased underground or through a research chemical company (forma líquida). Be aware that research companies are known for underdosing or selling bunk products, so do your homework before you buy.
Conclusión
The T-3 PCT/ Clenbuterol stack is a potent fat burner, which can be run safely by following the protocol laid out in this article. Some users have already reported body fat percentage losses exceeding 2%-4% (awesome numbers) during the 8 weeks that they're on this stack. Taking the N2Burn during the two weeks you're off the Clenbuterol is just being smart, allowing you to keep your progress going by switching up compounds.
A very powerful product in compact packaging, T-3 PCT is the truth for losing fat and keeping it off bros!
Foros
Quieres escuchar lo que nuestro 300,000 members think of T3 PCT and Clen? Member discussion about Clenbuterol below:
Obtener más conocimiento UNderground sobre esteroides, drogas de culturismo y las últimas noticias sobre la industria de esteroides. nuevas drogas y arrestos por drogas, te lo enviaremos todo...
Suscríbete a nuestra lista de correo y recibe noticias y actualizaciones interesantes directamente en tu bandeja de entrada.
Gracias por suscribirse.