....Does the NBA Have an HGH Problem?.....
Many athletes covet human growth hormone for its ability to promote fat loss, increase lean mass, and heal injuries. The latter is an especially big benefit for serious pro athletes, who often experience injuries during their grueling seasons.
HGH will no doubt benefit an NBA player, who must endure an 82-game regular season that stretches from October to April. Strangely enough, though, there's never been much controversy with NBA players using performance-enhancing drugs (PEDs).
This is especially unusual when considering that other major sports leagues like the NFL and MLB have had many players test positive for PEDs.
The only NBA players who've been busted for taking PEDs include Lindsey Hunter, Don MacLean, Matt Geiger, Rashard Lewis, O.J. Mayo, Darius Miles, Joakim Noah, Soumaila Samake, and Hedo Turkoglu. None of these players were caught taking HGH, which the league has only been testing for since 2016.
Despite the low number of players who've tested positive for PEDs, one prominent basketball mind insists that the NBA does have a drug problem. Let's discuss this former coach's comments along with possible evidence that basketball players are using HGH.
Player HGH Claims
George Karl Claims NBA Players are Taking HGH and Steroids....
George Karl coached in the NBA for 26 seasons, finally retiring after the 2016 campaign. Karl released a book last year called Furious George, which details his experiences with diva players. The book also covers how Karl believes that the NBA has "a drug problem" that's different than the one 30 years ago (i.e. recreational drugs).
"I'm talking about performance-enhancing drugs—like steroids, human growth hormone, and so on," his book explains. "It's obvious some of our players are doping. How are some guys getting older—yet thinner and fitter? How are they recovering from injuries so fast?
"Why the hell are they going to Germany in the offseason? I doubt it's for the sauerkraut. More likely it's for the newest, hard-to-detect blood boosters and PEDs they have in Europe. Unfortunately, drug testing always seems to be a couple steps behind drug hiding. Lance Armstrong never failed a drug test."
Aside from Karl's claims, there have been rumors about certain players taking PEDs. Many forum users commonly believe that LeBron James has used HGH to lengthen his career.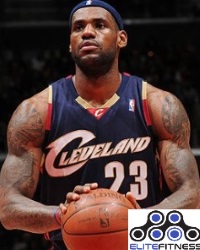 NBA Commissioner
NBA Commissioner Claims "No Chatter" on PED Speculation....
The biggest problem with speculation from Karl and forum users is that there's no real evidence. Unlike the NFL and MLB, basketball has never had an abundance of names attached to steroid scandals.
NBA commissioner Adam Silver touched on this point, noting that no legitimate report has surfaced regarding an NBA drug problem.
"Other than what George Karl wrote in his book, there is no chatter whatsoever in the league," said Silver. "Obviously, many reporters are in this room who cover the NBA. Presumably, if they thought there was an issue, they would be writing about it."
Of course, Silver's notion that there's no chatter about NBA players using banned performance answers is a lie. I just pointed out multiple for discussions on LeBron and his rumored HGH usage.
Memphis Grizzlies point guard Derrick Rose once told ESPN The Magazine that many players are using PEDs. Oddly enough, Rose would later claim that he couldn't remember answering any such question. Retired NBA All-Star Rip Hamilton said in 2016 that "there might be an issue" with players on PEDs.
Outrage over HGH
Would NBA Fans be Outraged if Players are Using HGH?
If previous PED scandals have taught us as anything, it's that fans can be appalled when their favorite athletes are caught juicing. The entire sport of baseball received a black eye during its mid-2000s steroid scandal. Certain NFL players have tainted their legacies by being caught with PEDs, including Brian Cushing and Bill Romanowski.
But would NBA fans have the same outrage if they found out that basketball players were on PEDs?
This is debatable when considering that there's a commonly held belief that basketball players don't benefit from steroids and HGH as much as football and baseball players.
NBA players, of course, would experience major perks from PEDs. After all, any basketball player can benefit from HGH-induced fat loss, increased strength, and injury healing perks.
Nevertheless, fans have been convinced over the years that basketball's heavy stamina aspect means that PEDs offer fewer benefits. And they might be less quick to condemn a player for using performance enhancers as a result.
Another matter worth mentioning here is that sports fans may be burnt out from steroid/HGH issue. The BALCO scandal and Biogenesis debacle all received big press for the stars involved. But then again, fans seem less and less surprised that athletes are juicing with each ensuing scandal.
Taking everything into account, there are likely NBA players using HGH and other PEDs. After all, you don't get current/former players and a recently retired coach claiming that there's an issue if there's not.
But should we rarely consider this to be a problem? Probably not.
Fans are tired of paying attention to PED scandals. What's more is that the average fan more than likely knows that the game isn't entirely pure. Furthermore, the sports world will quickly get over a basketball player using HGH to heal from injuries faster or cut more weight.
Buy HGH
Want to find high quality HGH?
Juvetrope comes with lab testing certification to verify that it's 100% pure, pharma-grade HGH. You can goto juvepharma.com and get yourself a kit.
For a limited time, Aug 2018 Juvetrope HGH has a 15% off sale for all items, and 25% off if paid by Bitcoins, coupon code: dogdays15 -- use it soon!!!


Forums
Want to discuss HGH on our forums? read on:
Yours in sport,

George Spellwin
Get MORE UNderground knowledge about steroids, bodybuilding drugs and the latest news on the steroid industry. new drugs and drug busts, we will send it all to you...
Subscribe to our mailing list and get interesting news and updates directly to your inbox.
Thank you for subscribing.