Saviez-vous que la douleur articulaire est la #1 problème que tous les haltérophiles font face universellement? La douleur articulaire est principalement causée par des micro-blessures autour des articulations impliquant les tendons, Bourses, ligaments, et d'autres tissus mous. Les professionnels de la santé ont tendance à classer la question comme l'arthrite, spécifiquement l'arthrose ou la polyarthrite rhumatoïde. Ils visent à aider ces patients en leur écrivant des ordonnances pour les anti-inflammatoires, qui peut faire plus de mal que de bien.
Le problème est que la plupart d'entre nous simplement accepter la douleur articulaire comme «une partie de la formation de poids» qui ne peut pas être contrôlée. Dans cet article, Je vais vous laisser entrer sur l'une de mes piles préférées qui non seulement aide à la douleur articulaire, mais aussi l'empêche d'exister en premier lieu.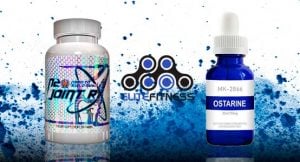 Pourquoi les haltérophiles ont-ils des problèmes articulaires?
Lorsque nous soulevons des poids et construisons la masse, tout ce muscle supplémentaire peut mettre la pression sur les articulations que nous ne connaîtrions pas autrement, sauf si nous devions travailler dans un travail de travail-vaste comme la construction. Une autre raison est, quand nous soulevons plus de poids que nous devrions, nous avons tendance à «tricher» en faisant les articulations faire le travail plutôt que les muscles. Il y a également un élément génétique où ceux qui ont des membres plus longs et plus lankier ont tendance à éprouver des problèmes dans leurs genoux et coudes puisque leur gamme de mouvement est plus longue. Ceux qui ont des membres plus petits ont généralement des problèmes articulaires dans d'autres parties du corps, comme les hanches, Chevilles, et cou/dos.
À la fin, même si vous faites tout bien et prendre votre temps de construction de la force et la masse, vous pouvez toujours éprouver des problèmes articulaires pour la simple raison que vous obtenez de petites micro-blessures à vos tissus mous entourant les articulations. Cela provoque le corps à libérer l'inflammation et rendra vos articulations très sujettes à la douleur. Ces questions semblent se multiplier à mesure que nous vieillissons, donc si vous commencez à éprouver des problèmes tôt dans la vie, la situation ne s'améliorera pas à moins que vous agissiez.
Ostarine
Ostarine (MK-2866) est un modulateur spécifique des récepteurs androgènes sélective (SARM) qui a été développé par une société appelée GTx pour aider à la perte musculaire, en particulier chez ceux qui ont une maladie. Il agit en se liant sélectivement au récepteur des androgènes et en créant une activité anabolisante dans les os et les muscles.
Les haltérophiles et les culturistes ont commencé à utiliser Ostarine à la fin des années 2000, quand il est devenu largement disponible à des fins de recherche. Ils ont remarqué être en mesure de gagner la masse musculaire maigre et une certaine force, tout en réduisant la graisse corporelle vers le bas.
Another thing that guys and gals started noticing when experimenting with Ostarine is its ability to prevent and treat minor overuse injuries, especially within the joints. Ostarine does this by affecting the bone and skeletal muscle tissues in an anabolic nature. It has been considered for treating problems like osteoporosis and arthritis as an off-label safe alternative, because it's not a drug that comes with nasty side effects.
Pour ces raisons, Ostarine is a great choice stacking into a cycle and also being used off-cycle.
N2JointRx (en)
We also want to discuss a product called N2JointRx (en). It's a natural supplement formula designed to provide the building blocks to not only reverse the wear you put on your body, but also rebuild damage to your joints and surrounding soft tissues. It contains many ingredients, which you can learn more about below.
Vitamine A, Vitamine C, Vitamin D3, Vitamine E, Vitamin K2, Calcium, Zinc, Sélénium, Manganese Sulfate: These vitamins and minerals are essential to help your body heal from small nagging micro-injuries that you will suffer in the weight room. They do this by converting food into energy and repairing cellular damage. Many people have a difficult time getting enough of these in their diet due to soil depletion and/or poor diet. Malheureusement, the issue gets worse as we age.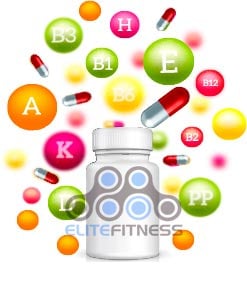 Copper: When you overstretch your connective tissues, then this element will help them reshape and avoid injuries by forming elastin.
Chromium: Rapidly helps the body repair and recover after a grueling workout.
Glucosamine Sulfate: One of the most-popular joint compounds, because it helps with cartilage, arthritis, and repairing injuries.
Chondroitin Sulfate: Great for boosting cartilage and preventing it from being worn down. Many older athletes are missing cartilage, because they neglected this supplement.
Cissus Quadrangularis Extract: A natural antioxidant that helps reduce inflammation and repair.
MSM: Great for treating and preventing arthritis and naturally dealing with inflammation.
Hyaluronic Acid: Excellent for lubricating the joints.
Now you see why N2JointRx is an important addition to your weight training.
Pile d'articulation ultime
Ostarine and N2JointRx work great for joints by themselves; but just imagine what happens when you combine both. Athletes who are suffering from joint pain report feeling much better within days after starting to use this stack. Those who take a more-proactive approach and use it while weight training report fewer injuries and faster recovery from their workouts.
We recommend using Ostarine at 25mgs per day and N2JointRx at 5 comprimés par jour (30 portions). This stack will typically run 4-12 semaines. You will need a mini-PCT after using Ostarine for longer than 4 semaines. This mini-PCT should be N2Generate at 5 capsules per day for 4 semaines. You can continue using N2JointRx year-round, but Ostarine should be cycled 4-12 semaines et 4-8 weeks off to avoid suppression.
To purchase Ostarine, check out our forums at Evolutionary.org et EliteFitness.com.
To purchase N2JointRx, please go to N2bm.com.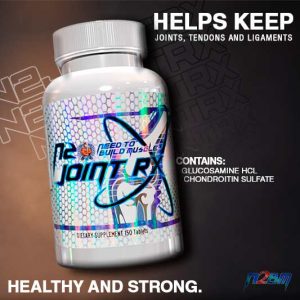 Plus de vidéos sur N2JointRX et Ostarine.
Forums
Forums sur notreforum? lire la suite:
Sportivement vôtre,

George Spellwin
Get MORE UNderground knowledge about steroids

,

bodybuilding drugs and the latest news on the steroid industry

.

new drugs and drug busts

,

we will send it all to you..

.

Subscribe to our mailing list and get interesting news and updates directly to your inbox.

Thank you for subscribing.