Vidste du, at ledsmerter er #1 problem, at alle vægtløftere står over for universelt? Ledsmerter er for det meste forårsaget af mikro-skader omkring leddene involverer sener, Bursae, ledbånd, og andet blødt væv. Medicinske fagfolk har tendens til at kategorisere problemet som gigt, specifikt slidgigt eller leddegigt. De har til formål at hjælpe sådanne patienter ved at skrive dem recepter for anti-inflammatoriske, som kan gøre mere skade end gavn.
Problemet er, at de fleste af os bare acceptere ledsmerter som "en del af vægttræning", der ikke kan kontrolleres. I denne artikel, Jeg har tænkt mig at lade dig ind på en af mine foretrukne stakke, der ikke kun hjælper med ledsmerter, men også forhindrer det i at eksistere i første omgang.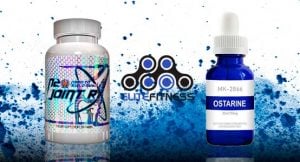 Hvorfor får vægtløftere ledproblemer?
Når vi løfter vægte og opbygger masse, alt det ekstra muskel kan lægge pres på leddene, som vi ellers ikke ville opleve, medmindre vi skulle arbejde i et arbejdsomfattende job som byggeri. En anden grund er, når vi løfter mere vægt, end vi burde, vi har tendens til at "snyde" ved at gøre leddene gøre arbejdet i stedet for musklerne. Der er også et genetisk element, hvor dem med længere og lankier lemmer tendens til at opleve problemer i deres knæ og albuer, da deres vifte af bevægelse er længere. Personer med mindre lemmer har normalt fælles problemer i andre dele af kroppen, ligesom hofterne, Ankler, og hals/ryg.
Til sidst, selvom du gør alt rigtigt og tager din tid på at opbygge styrke og masse, du kan stadig opleve fælles problemer af den simple grund, at du får små mikro-skader på dit bløde væv omkring leddene. Dette får kroppen til at frigive betændelse og vil gøre dine led meget tilbøjelige til at smerte. Disse spørgsmål synes at formere sig, efterhånden som vi bliver ældre, så hvis du begynder at opleve problemer tidligt i livet, situationen vil ikke blive bedre, medmindre du skride til handling.
Ostarine
Ostarine (MK-2866) er en selektiv androgen receptor modulator (SARM) der blev udviklet af et firma kaldet GTx til at hjælpe med muskelsvind, især hos dem, der har en sygdom. Det virker ved selektivt bindende for androgen receptor og skabe anabolske aktivitet i knogler og muskler.
Vægt løftere og bodybuildere begyndte at bruge Ostarine i slutningen af 2000'erne, da det blev bredt tilgængelige til forskningsformål. De bemærkede at være i stand til at få lean muskelmasse og nogle styrke, samtidig med at kropsfedt et.
Another thing that guys and gals started noticing when experimenting with Ostarine is its ability to prevent and treat minor overuse injuries, especially within the joints. Ostarine does this by affecting the bone and skeletal muscle tissues in an anabolic nature. It has been considered for treating problems like osteoporosis and arthritis as an off-label safe alternative, because it's not a drug that comes with nasty side effects.
Af disse grunde, Ostarine is a great choice stacking into a cycle and also being used off-cycle.
N2JointRx
We also want to discuss a product called N2JointRx. It's a natural supplement formula designed to provide the building blocks to not only reverse the wear you put on your body, but also rebuild damage to your joints and surrounding soft tissues. It contains many ingredients, which you can learn more about below.
Vitamin A, C-vitamin, Vitamin D3, E-vitamin, Vitamin K2, Calcium, Zink, Selen, Manganese Sulfate: These vitamins and minerals are essential to help your body heal from small nagging micro-injuries that you will suffer in the weight room. They do this by converting food into energy and repairing cellular damage. Many people have a difficult time getting enough of these in their diet due to soil depletion and/or poor diet. desværre, the issue gets worse as we age.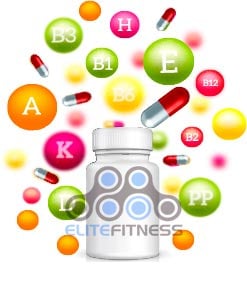 Copper: When you overstretch your connective tissues, then this element will help them reshape and avoid injuries by forming elastin.
Chromium: Rapidly helps the body repair and recover after a grueling workout.
Glucosamine Sulfate: One of the most-popular joint compounds, because it helps with cartilage, arthritis, and repairing injuries.
Chondroitin Sulfate: Great for boosting cartilage and preventing it from being worn down. Many older athletes are missing cartilage, because they neglected this supplement.
Cissus Quadrangularis Extract: A natural antioxidant that helps reduce inflammation and repair.
MSM: Great for treating and preventing arthritis and naturally dealing with inflammation.
Hyaluronic Acid: Excellent for lubricating the joints.
Now you see why N2JointRx is an important addition to your weight training.
Ultimativ fælles stak
Ostarine and N2JointRx work great for joints by themselves; but just imagine what happens when you combine both. Athletes who are suffering from joint pain report feeling much better within days after starting to use this stack. Those who take a more-proactive approach and use it while weight training report fewer injuries and faster recovery from their workouts.
We recommend using Ostarine at 25mgs per day and N2JointRx at 5 tablets per day (30 portioner). This stack will typically run 4-12 uger. You will need a mini-PCT after using Ostarine for longer than 4 uger. This mini-PCT should be N2Generate at 5 capsules per day for 4 uger. You can continue using N2JointRx year-round, but Ostarine should be cycled 4-12 uger på og 4-8 weeks off to avoid suppression.
To purchase Ostarine, check out our forums at Evolutionary.org og EliteFitness.com.
To purchase N2JointRx, please go to N2bm.com.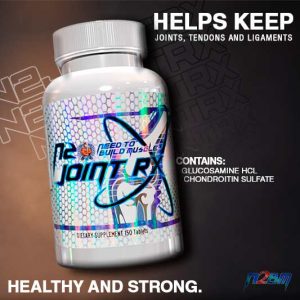 Flere videoer om N2JointRX og Ostarine.
Fora
Fora på voresfora? Læs om:
Med venlig i sporten,

George Spellwin
Get MORE UNderground knowledge about steroids

,

bodybuilding drugs and the latest news on the steroid industry

.

new drugs and drug busts

,

we will send it all to you..

.

Subscribe to our mailing list and get interesting news and updates directly to your inbox.

Thank you for subscribing.
[Total:

0

Gennemsnitlig:

0

/5]