There's a nutritional brand called N2BM Nutrition that makes natural products for steroid users. The products in the N2BM line are meant to help you ward off any possible side effects from your steroid cycle and to enhance the results you're getting from the steroids you are taking already. They also have some products that you can take in between cycles to maintain your gains and keep making some progress as your body clears out the steroids. The guys who shop from N2BM are looking for the very best products to add to their steroid cycle, for the best results and zero side effects.
Two of the flagship N2BM support products that are made to be stacked together, are N2Guard and N2Generate. Both products are meant to be taken with your performance-enhancement drugs (PEDs), like steroids, SARMs, and peptides, or can also be taken with your post-cycle therapy medications. Plus, both N2Guard and N2Generate are extremely effective at doing what they were designed to do.
N2Guard is an all-in one cycle support product, meant to help you keep your liver and other vital organs safe from the toxicity of steroid use, so your liver, kidneys, and heart don't suffer, even when taking harsh oral steroids, like Dianabol, Anadrol, or Winstrol.
N2generate is also a comprehensive libido and fertility support product. It's meant to help you maintain a healthy hypothalamic–pituitary–adrenal axis (HTPA) during and after cycle, so your testicles remain a normal size and your penis provides consistent and reliable erections even during PCT. No more Deca dick!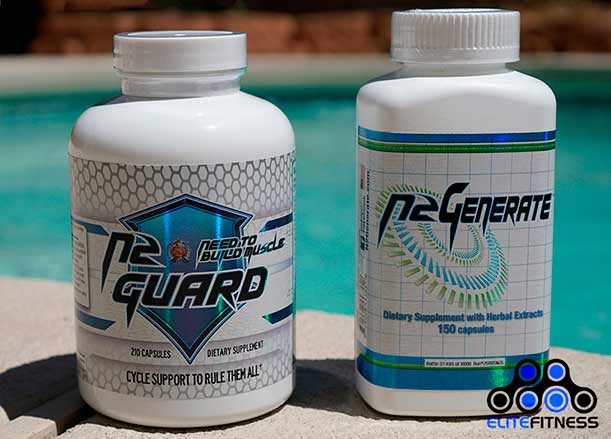 Taking N2Guard and N2Generate
It is quite simple to incorporate N2Guard and N2Generate into your program. You can take them both together or separately, with steroids and during PCT, or even in those times in between cycles. You can safely take them with your all of your PEDs. In fact, you want to make sure to use N2Guard anytime you are taking oral steroids, since N2Guard contains key ingredients that will help protect your liver from the harsh treatment by oral steroids.
N2Guard
N2Guard is your all-in-one organ support product. It contains some 40 well-known ingredients, so you take 7 capsules per day. This product is specifically formulated to protect specific bodily functions that may be affected by your steroid use. For guys using oral steroids, N2Guard contains TUDCA and MilK Thistle, both of which are essential to keep your liver healthy during an oral cycle. N2Guard is not just organ support, but it contains many essential vitamins and minerals that you absolutely need to have during your cycle in order to get the best results you can from the steroids or peptides or SARMs you are already taking — while doing it safely.
N2Generate
N2Generate is your libido and fertility support. You can take it during your cycle as a preventive measure, and/or with your post-cycle therapy to enhance recovery. Two of the most-dreaded side effects from steroids that suppress your HTPA include testicular shrinkage and trouble getting erections. N2Generate is made to help keep your balls plump and your pecker hard, during and after cycle. This product comes in a big bottle, and you have to take 5 capsules of it per day with food. Taken as part of your post-cycle therapy program, N2Generate will help your natural testosterone production recover much more effectively.
When to take N2Guard and N2Generate
-Any time of the year is a good time to take N2Guard and/or N2Generate. You do not need to be on a cycle to gain benefits from taking the products. N2Guard can be your daily multivitamin and part of your anti-aging program. N2Generate can be used daily for just libido support and fertility. Both products can be taken at half dose for extended periods of time, just as support while you are training natural and taking a break from steroids.
-Any time you are using oral steroids, you should be taking N2Guard to help protect your liver from the ravages of methylated steroids. Many guys will run an oral steroid like Dianabol during the first 4-6 weeks of their cycle, while they wait for the injectables with long esters to build up. N2Guard is a must during those first 4-5 weeks of the kickstart. You want to take the N2Guard with your food and your steroids in between meals. You should not take the N2Guard and oral steroids at the same time, or N2Guard can hinder absorption of the hormones. So, most guys just wait about one hour in between taking the N2Guard and oral steroids; that seems to work well for most. Even if your cycle doesn't include any oral steroids, you should be taking N2Guard with your injectables, since these can also cause some degree of liver damage, as well as negative effects on your kidneys and heart. N2Guard also protects every other organ as well, not just the liver.
When it comes to N2Generate, it can help prevent suppression to your HTPA early in the cycle, when strong oral steroids may wreck your natural testosterone production. So it can be taken during cycle as a shield to prevent suppression, so that your post-cycle therapy is a lot smoother.
-During Post-Cycle Therapy, N2Guard is the perfect product to help detox your organs from synthetic metabolites after cycle. When it comes to N2Generate, it's the perfect product to stack with your post-cycle therapy meds. It will help you recover quicker while feeling great the whole time. In order to keep your gains from your steroid cycle, you must quickly recover your body's own natural testosterone production after a cycle, so that your body can naturally support all of your new muscles.
Losing gains is only one part of it, because depression after cycle is pretty common too. The depressive sad mood many guys report during post-cycle therapy happens due to two main reasons: one is the brain detecting the lowering androgen levels, and, also, feeling depressed seems to be a commonly reported side effect of PCT medications like Clomiphene and HCG. N2Generate, with its 8 ingredients, will help your testicles stay plump and producing natural test, so you don't lose any muscle mass, while making you feel in a great mood all day. This is why so many guys around the world trust this product.

Forums
Forums on our forums? read on:
Yours in sport,

George Spellwin
The post Ginseng appeared first on EliteFitness.com.
Get MORE UNderground knowledge about steroids, bodybuilding drugs and the latest news on the steroid industry. new drugs and drug busts, we will send it all to you...
Subscribe to our mailing list and get interesting news and updates directly to your inbox.
Thank you for subscribing.