....Jean-Claude Van Damme de Martial Arts-legende....
Jean-Claude Van Damme is een Vlaams acteur, martial artiest, en filmproducent. Hij is vooral bekend voor het acteren, schrijven, en regisseren van D-tarief actiefilms in de late 80 's en 90 's. Zijn record Kickboksen is 18-1, en hij behaalde een 2e Dan zwarte band in Shotokan (een stijl van karate).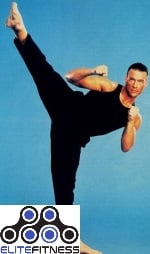 Vroege leven
Van Damme's volledige naam is Jean-Claude Camille Francois Van Varenberg. Hij werd geboren in 1960 in België, and is the son of a florist and accountant. His father put him in Shotokan karate school at 10 jaar oud, and he learned kickboxing. He also studied ballet for 5 years as a teenager, and he credits this to giving him a unique advantage of balance and endurance. Weight training was also something he did to get his body stronger, and he was so talented that he won the Mr. Belgium bodybuilding title. At 18, he already earned a black belt in karate and also worked on Taekwondo and other martial arts like Muay Thai.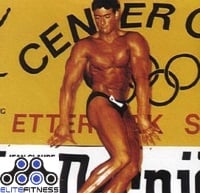 Karate carrière
As an amateur karate competitor Van Damme went 44-4. He also won the European Karate Championships in Brussels. He participated in a 3-day tournament called the 'Challenge Coupe des Espoirs' and crushed 25 straight opponents - making it to the end but losing to his teammate. His full contact career resulted in 18 knockouts with just 1 loss. He finished his martial arts career in 1982 and moved to the United States to chase his dream of becoming an actor.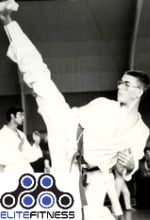 Start in films
Zijn start in de films....
Chuck Norris was een D-tarief actie-acteur uit die tijd die bevriend met Van Damme en laat hem stuiteren in zijn bar genaamd Woody's Wharf. Van Damme heeft enkele kleine rollen in een aantal Norris's films als een stuntman of een extra.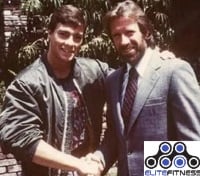 Zijn eerste grote filmrol kwam in 1986 toen hij werd gecast als een Russische slechte kerel die een jonge Amerikaan intimideren. De film was universeel laten draaien omdat het vrij veel het script van gekopieerd "The Karate Kid," die werd uitgebracht 2 jaar voorafgaande. Tijdens het filmen van de film, Van Damme was te agressief met de stuntmen en de actoren tijdens het gevecht scènes, verlaten sommige ernstig gewond.
In 1988, Hij zou uitbreken met een rol als ons leger kapitein die vecht voor zijn mentor in een illegale Hong Kong martial arts toernooi. Het cheesy en voorspelbaar script was een grote hit, omdat Van Damme was zowel goed kijken voor de dames en spannend voor de mannen. De film zou verdienen $70 miljoen vs. een $2 miljoen begroting en het maken Van Damme een gewilde na actie sterren.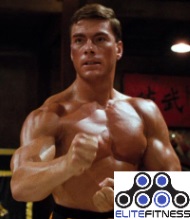 Daarna, Van Damme was offered multiple movies to star in but chose Cyborg, which was universally panned due to poor acting and plot. The movie was extremely low budget but still made about $10 miljoen. Another movie he played in that did well was Kickboxer in 1989. It made $65 million worldwide on a $3 million budget. One critic called the movie "The dumbest action picture of the year," and other critics lambasted Van Damme as a 'low budget Arnold Schwarzenegger wannabee' who simply cannot act.
De volgende voor hem was "Doodvonnis," een film over een undercover agent die krijgt gevangen naast een seriemoordenaar gezet. Een andere was "Lionheart," dat was een grote hit onder zijn fans. Beide films een flinke winst maakte op een klein budget.
Dolph Lundgren en Van Damme zou samen in een film genaamd "Universal Soldier" over eerder dode soldaten die zijn teruggezet en op een missie gestuurd. Tijdens de films openen in Cannes, beide acteurs zouden krijgen in een verbale woordenwisseling, which escalated the excitement for the movie.
Van Damme would tell Arsenio Hall in an interview that the fight was made up to drive up interest in the film:

Action fans would love the movie, and it ended up breaking the $100 million barrier, making it officially a blockbuster. In 1994, he starred as a time-traveling cop trying to save his wife in the movie "Timecop", which topped $100 million and was his highest grossing film.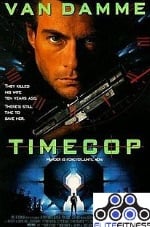 His luck would run out when he starred with NBA player Dennis Rodman fighting crime in the movie "Double Team". The movie bombed at the box office, losing over 20M$ and also won 3 Golden Raspberry Awards (given to honor the WORST movies of the year).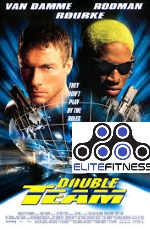 He would make dozens of movies during his career, with not a single one getting good critical reviews. You can see his entire movie history here: https://www.rottentomatoes.com/celebrity/jeanclaude_van_damme/
Erfenis
Say what you want about Van Damme's acting, but he had a real talent for martial arts, and he had a ripped physique. Watch this video to see him in his movies.
The original video game "Mortal Kombat" was created based on Van Damme's fighting style and appearance. The German "Donkey Kong" video game has a hero named Jean-Claude Van Kong.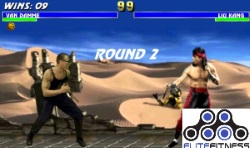 Leven en Drugs
Drug use and personal life....
Van Damme admits that during the 90's, he was so stressed by working so hard on movies that he was spending $10,000 per week on cocaine, and on some days it was 10 grams per day of use. He tried rehabilitation, but it did not work for him, so he tried to quit cold turkey. It was later revealed that he was extremely bipolar and had crazy mood swings from morning to afternoon. He takes medication for the condition.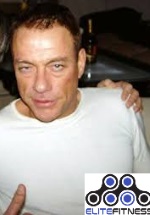 His personal life is a mess. He has had 4 wives including bodybuilder Gladys Portugues, whom he cheated on with actress Darcy LaPier whom would become his next wife. He then would cheat on her too with another actress he met during a movie filming.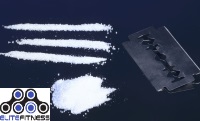 Steroïden
Van Damme was only 18 when he was crowned Mr. Belgium, and it was likely he was using steroids from a young age and throughout his adulthood, to maintain his amazing physique and recovery. We can speculate his steroid stack would have looked like this ahead of an action movie during his peak years in the 90's:
Jean-Claude Van Damme steroïde cyclus
Cocaïne 5-10g per dag
Sigaretten 1 Pack per dag (waarschijnlijk)
Human Growth Hormone 6IU is per dag
Forums
Wilt bespreken van Jean-Claude Van Damme op onze forums? klikt u op en bespreken....
Yours in de sport,

George Spellwin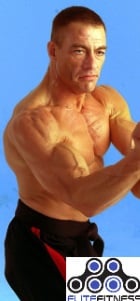 *DISCLAIMER: De cyclus boven is onze mening over wat Jean-Claude Van Damme kon hebben gebruikt, Dit is uitsluitend bedoeld voor informatie en entertainment. Er is geen direct bewijs dat Jean-Claude Van Damme steroïden of een andere drugs gebruikt.
Krijg MEER UNderground kennis over steroïden, bodybuilding drugs en het laatste nieuws over de steroïde industrie. nieuwe drugs en drugs bustes, we sturen het allemaal naar je toe..
Abonneer u op onze mailinglijst en ontvang interessant nieuws en updates direct in uw inbox.
Bedankt voor uw inschrijving.