[sc:masthead-std ]
[sc:salutation-std ]
For decades, Human Growth Hormone (HGH) has been referred to as the "fountain of youth". It's been used by bodybuilders to cut fat, enhance steroid cycles, and recover from workouts faster. So it's easy to see why many look at HGH as some sort of wonder drug. But just exactly what is HGH? More importantly what can it do for you, and is HGH safe to use? Keep reading this guide as you'll learn about HGH side effects, HGH results, is HGH legal, HGH vs steroids, and a step by step guide on how to mix HGH - complete with pictures.
What is Human Growth Hormone?
HGH (a.k.a. somatropin or GH) is created by the pituitary gland, and its primary function is to help our bones, muscles, organs, and tissues properly grow during our early years. And it's important that, during childhood and teenage years, your HGH levels remain balanced so that you don't become a dwarf or eight feet tall. HGH benefits don't stop when you're young, though, because you also need plenty of this hormone to keep your muscles full and strong, regulate metabolic functions, have a healthy immune system and repair your skin.
Unfortunately, our body's HGH peaks when we're adolescents and begins to decline from here. This is especially the case when we reach our 30's, as HGH levels begin dropping much faster at this point. Over time this leads to some unsightly byproducts of aging, like more body fat, less muscle, decreased bone density, worse skin appearance, fatigue and decreased brain function.
HGH Results and Benefits
Given all the bad things that happen when our bodies produce less HGH, one huge benefit of this drug is that it can reverse or at least improve aging. Now this isn't to say that you're going to live to 120 just because you take HGH injections, but you should start to look and feel more youthful by using this drug.
HGH can also help build lean mass. Notice I said "lean" (fat-free) mass because studies have shown that HGH may have little to no impact on muscle growth (1) (2). Even research performed on athletes in training have yielded no proven muscle-building results (3). However, this isn't to say that HGH has absolutely no place in the bodybuilding community because, as I'll later discuss, you can combine it with anabolic-androgenic steroids (AAS) for really powerful results.
This may be especially true in the fat-loss department, where one study revealed that HGH is better than testosterone for melting body fat. The research showed that older men who received HGH injections lost 13% body fat, as compared to the 5.8% fat reduction in the testosterone group (4). Perhaps even more interesting is that those using testosterone and HGH together lost 21% of their body fat.
Another bonus to Human Growth Hormone is that it helps you recover from both workouts and heal from injuries faster. The latter is great for anybody who's dealt with nagging injuries for years that they want to heal finally. As for the faster workout recovery time, well, any athlete can appreciate being able to train harder and more frequently. Imagine how much more muscle you could gain if you worked each muscle group twice every 10 days, rather than the standard of once per week.
HGH Side Effects
As if I haven't already discussed enough great things about HGH, yet another is that you shouldn't experience many side effects with it. Contrast this to AAS, which can have severe side effects depending upon the dosage.
Water retention and joint pain are probably the worst side effects of HGH that you'll experience. Luckily, the joint pain shouldn't be unbearable in most cases, and the water retention will subside when your HGH cycle is over. Some minor problems that you could experience include cold-like symptoms, fatigue, and headaches when using this drug.
One serious issue that you should consider is if your family has a history of cancer. If so, you should definitely visit a doctor and get checked out for cancer because, while GH isn't proven to cause tumors, it can accelerate the growth rate of existing tumors.
Another serious issue is acromegaly, or the thickening of your jaw, fingers, and toes. Acromegaly can lead to the lengthening of your fingers and toes, and cause you to develop the dreaded "square jaw" appearance that many HGH users have - making you look like a hairless Neanderthal However, it should be mentioned that this is normally only a problem in those who abuse high dosages of GH for long periods of time. By keeping dosages reasonable, you should keep your normal human appearance too.
HGH has somewhat of a mixed effect on your cholesterol levels. A study performed on older men and women showed that their LDL (bad) cholesterol levels decreased; however, their triglyceride levels increased (5). One more concern worth mentioning is that those using this drug are also at more risk of developing carpal tunnel syndrome (6).
Is HGH Legal?
HGH is illegal in most countries concerning recreational or performance-enhancing use. In the United States, for example, anybody who illegally sells or prescribes Human Growth Hormones faces up to 5 years in prison and a $250,000 fine. The only way to legally obtain this drug is by getting a prescription for either child growth deficiency or adult growth hormone deficiency. Despite how HGH is not legal in most countries, that doesn't stop many people from getting their hands on it.
Also, keep in mind that all major sports governing bodies have banned GH. Sure, this compound doesn't produce noticeable strength-boosting capabilities (7). But its ability to enhance fat loss, improve workout recovery time, and heal old injuries certainly has some use to athletes. For a while, HGH testing wasn't available to sports leagues because there was no reliable way to test it. However, that's changed quite a bit, and all major professional sports have HGH testing available now.
How to get HGH?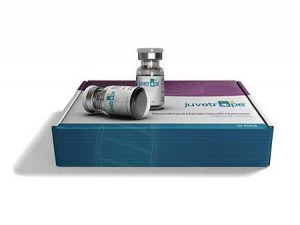 If you don't have a prescription to buy HGH, or a doctor willing to prescribe it to you, then the black market is your other option. There are some underground labs that offer HGH products to anybody through the internet. However, as the term "black market" suggests, you must always be careful when buying HGH online. After all, it could be underdosed, fake, or even an entirely different compound.
One more thing to consider when you buy HGH is that the real version only comes in lyophilized powder, and it must be administered through subcutaneous (into the fat just under the skin) injections. You'll often see some different products offered, ranging from HGH pills to HGH spray - these are complete garbage! Somatropin is a fragile molecule that's really unstable and doesn't stay composed very long at room temperature. If you shake HGH too hard, this can also reshape it and form something entirely different from Human Growth Hormones. Long story short, don't buy HGH pills, patches or sprays.
If you want to learn how athletes get HGH Click Here.
HGH vs. Steroids
Because Human Growth Hormone and anabolic steroids can both help you build muscle and strength, they are commonly lumped together. However, this is a mistake because they are very different from each other.
First off, HGH is a protein-based hormone produced in the pituitary gland (base of brain). It's made of 191 amino acid chains and controls a number of functions like cell reproduction and repair, and growth of tissue and bones. HGH side effects are typically mild and less threatening than steroids, with the most common problems being high blood pressure, headaches, joint pain and water retention.
Testosterone, on the other hand, is a sex hormone that's made in the testes. Forming the foundation of all anabolic steroids, testosterone plays a big role in protein synthesis, boosts strength and improves muscular endurance. Anabolic steroid side effects are pretty serious, with users potentially experiencing gynecomastia (man boobs), high blood pressure, high cholesterol, liver toxicity, low sex drive, low natural testosterone and/or water retention.
As you can see, HGH and AAS are quite different from each other in many respects. However, they do share some similarities, namely that they're synthesized naturally in the body, and they're both necessary parts of human development.
Learn why bodybuilders prefer HGH over steroids here or visit www.HGHInsider.com
HGH for Bodybuilding
Because HGH was and is widely used by bodybuilders and athletes over the years, it's assumed that it has incredible muscle-building and strength-boosting benefits. However, as discussed before, research has yet to conclude that you'll gain any significant muscle mass through HGH (8). But then again, bodybuilders don't take HGH because they've been fooled by public opinion.
This drug has some good effects on fat loss and workout recovery - two huge qualities that bodybuilders benefit from HGH. And these effects are only enhanced when you include GH in an anabolic steroid cycle. Think of AAS as regular-grade gasoline, adding HGH would turn them into higher, premium-grade fuel. You can get better results from anabolic steroids, and use less of them just by incorporating HGH.
So how does HGH work? As mentioned before, GH is secreted by the pituitary gland, usually when you're sleeping or during high-intensity workouts. Once secreted, the activity of HGH normally only lasts for around 10-20 minutes. During this short duration, it binds to fat cells, causing them to break down into triglycerides and preventing these fat cells from uptaking lipids. HGH also binds to muscle cells, leading to the release of growth factors and multiplication of the cells.
Another bodybuilding benefit of HGH is that it travels to the liver and induces the secretion of Insulin-like Growth Factor One (IGF-1). When IGF-1 is released, it stimulates protein synthesis in muscles and encourages amino acid uptake. Research suggests that these actions help to create a moderate anabolic effect that GH lacks on its own (9). IGF-1 also acts very much like insulin and can increase the metabolism of carbohydrates. Higher IGF-1 levels lead to carbs being converted to glucose and used as energy, rather than being stored as fat.
From an overall standpoint, HGH isn't magic for bodybuilders that will help them build pounds of muscle and rapidly drop their body fat into the single digits. However, GH does provide some quality benefits in the way of protein synthesis, nutrient shuttling, and fat loss - all helping you attain a better physique, especially when combined with anabolic steroids.
HGH for Women
Given that most anabolic steroids cause virilization (development of male sexual characteristics) in women, there's a common stereotype that ladies shouldn't use Human Growth Hormone either. But did you know that women actually produce more HGH in their bodies than men?
HGH is safe for women at lower dosages, and they can see some nice results concerning increased energy levels, fat loss, healthier skin and wrinkle reduction. As indicated in this EliteFitness Forum thread, a good HGH dosage for women without major side effects ranges from 0.5 - 1.5 IU's per day. Click here to read the thread.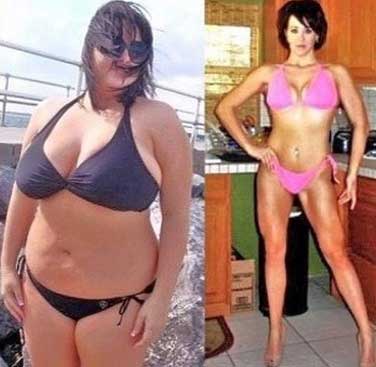 HGH Price
Aside from its illegal status, another big roadblock that keeps people from using GH is the high price. It's a great compound to mix with an anabolic steroid cycle...if you can afford it. But for many bodybuilders, it's a little pricey to add just for fat-loss and recovery purposes.
The cost varies based on the brand you're ordering, but it's common to pay anywhere from $3 to $4 per IU of high-quality somatropin. So if you were to buy a supply of 500 IU's, you'd end up paying between $1,500 and $2,000 on average. As I'll discuss below, a typical HGH dosage for bodybuilding is 5 UI's per day, which works out to about $15-$20 for daily use. Maybe you don't have to be a millionaire to afford this, but it's certainly not cheap for a non-muscle building compound.
One more thing to be aware of here: if the price is unbelievable, then don't believe it. Quality HGH - that with 191 amino acid chains - is fairly expensive to produce, so underground labs aren't going to sell it for the same price as Dianabol. If you do find really cheap HGH ($1 or less per IU), it's probably the weak, 192-amino-acid-chain product known as somatrem.
How to use HGH
Okay, so now that we've discussed all the highs and lows of HGH, it should be reiterated that this is an effective drug for certain bodybuilding purposes. This is especially the case when you combine HGH with testosterone, which gives you a great synergistic effect for fat loss and workout recovery. Plus, if you're middle-aged, and beyond, you can't overlook the anti-aging effects of this drug either. That said, let's go over what you'll need to know to run a good HGH cycle by answering some common questions.
What HGH Dosage should I take?
There's no one-size-fits-all formula for how much HGH you should use, and a lot of this has to do with the quality of the product. However, there are some rough guidelines that you can follow until finding out what works for you.
With quality Serostim, you can see pretty good bodybuilding results with just 3-4 UI's a day. With "blue tops" (generic) HGH, you'll probably need 5-6 UI's before you start seeing decent results. If it's really low-quality product, you might even need 7-8 IU's to get the same effect as 3-4 UI's of Serostim.
Assuming you're just using HGH for anti-aging and general health benefits, you can get solid results with only 2-3 UI's per day.
Find out where to get good quality here or visit www.HGHInsider.com
How should I cycle HGH?
As I discussed before, HGH makes for a good drug to stack with AAS. Plus, because this compound doesn't shut down your natural testosterone production like anabolic steroids, you can run it far longer. It's recommended that you use HGH for a minimum of 20 weeks to get solid bodybuilding results. To give you a basic idea of how to run an HGH cycle, you can check out this EliteFitness thread. Click here to read the thread.
Again, the quality will greatly determine how much you should use every day. TThe guy discussed in the thread gets blue tops HGH. Blue tops HGH is a generic made product from China; so I'm betting he's going to need around 5 IU's to get the same results as 3 IU's of a pharma-grade product. As an experienced steroid user, he also stacks HGH with testosterone enanthate, Equipoise, and Dianabol in one cycle, and then then testosterone e., Deca Durabolin and Turinabol in another AAS cycle. In all, he runs HGH for 47 straight weeks before stopping use.
Find out where to get good quality here or visit www.HGHInsider.com
When should I take HGH?
When you take HGH, injections will largely depend on your age. Men aged 20 to 50 should release a fair amount of GH at night while they're sleeping; so taking this drug before bed will only suppress your natural output and result in wasted product. That said, most younger and middle-aged men should use HGH in the morning so that you essentially have two HGH spikes - one while you're sleeping and one in the early morning.
For those older than 50, or with a condition that affects a normal release of HGH, you should take it right before bed. This allows your body to mimic the normal pattern of GH release that you'd have with a properly functioning pituitary gland.
How often should I take HGH?
Some people take HGH 7 days a week, which provides good results; however, I don't think this is necessary. When you get the biggest surge of natural GH in your life, it is during puberty, and it's often in irregular spurts, not a steady source.
A 5 day on / 2 day off pattern is the best route, but most people fall into the (bad) habit of doing it Mon-Fri and then Sat and Sun off - this isn't very good.
A better dosing schedule is:
Mon-Tue-Wed = GH days
Th = off
Fri-Sat = GH days
Sun = off
This spreads the doses out, but never so you go longer than one day without a dose. I have done it both ways - this schedule and the everyday (7 days per week) schedule - and there is really no difference at all with the results...except the above schedule makes your GH supply last longer. Overall, though, the results and benefits are exactly the same. Also, when taking more than 4 IU's of HGH per day, try dividing it into two doses; one in the AM upon rising and the other half at 4 p.m. in the evening.
More than 10 IU's of HGH daily, then divide into four doses: AM, noon, 3 p.m., 6 p.m.
Higher than 10 IU's of HGH daily is not encouraged for the average trainee, and even for the elite trainee, until much research has been done. After all, going this high requires T4 supplementation and very often incorporating insulin since the only reason to go higher than 10 UI's of HGH is for forced bulking.
How is HGH Measured?
IU (international units) is a standard measurement concerning amount/quantity, not strength. 10 UI's from a 4mg compound will be weaker than 10 UI's from a 6mg product.
Now consider that when HGH is constituted, we normally use 1ml of bacstat water, which is 100 UI's. So a generic HGH vial that is claimed to be 10 UI's is now effectively 100 UI's due to the water measurement in it. Kind of confusing for sure, which is where I suspect a lot of the complaints about a certain brand of HGH being underdosed originate from. Simply because they do not tell you what strength the product is; instead they hide behind the "IU" claim of so many IU's per vial.
How do I mix HGH?
First of all you need the following supplies:
One Insulin syringe
One bottle of Bacteriostatic water
One Injection Syringe
Step 1
Draw up 1cc (1ml) of bacteriostatic water into a syringe.
Step 2
Insert syringe into the HGH vial with the needle resting against the side of the glass. The HGH vial should be turned upside down with the wafer at the top of the vial. (Which is the bottom)
Slowly filter the water into the vial so that it runs down the glass side of the vial and doesn't splash into the wafer.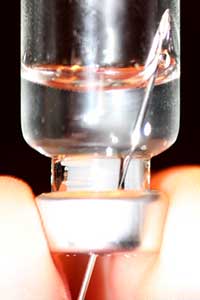 Never squirt the water directly onto the HGH wafer. HGH is a very, very fragile peptide, and you should never add water directly to the wafer or shake the vial. You will damage and pretty much kill the peptide handling it this way.
Once you have the water in the HGH vial with the water at the bottom and the wafer at the top. Lay the vial on its side.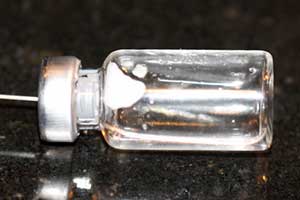 This will allow the water to mix more gently with the wafer. You can roll the vial slowly back and forth to ensure all is mixed. In the pic above, you can see some of the undissolved wafer clinging to the side of the vial.
Once constituted, HGH should be kept in the refrigerator at all times. Using the contents of the vial within 7 days is best.
Step 3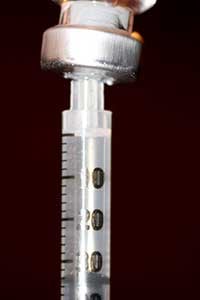 When drawing up HGH after it is constituted for use, keep in mind the extra amount of IU's in the vial now that you added the water to it. With 1ml of water, you will now have 100 IU's in the vial. So if you want to use 3 IU's of HGH at a time, you have to adjust your calculations based on the total volume amount in the vial accordingly. In this case, you will need to draw up 30 IU's on the syringe in order to get 3 IU's of HGH (Or you hope you get to provide it isn't underdosed by the manufacturer).
Find out where to get good quality here or visit www.HGHInsider.com
Is HGH Safe?
Considering that HGH side effects seem relatively mild, you might think that it's a totally safe drug with few downsides. However, this is not considered a safe drug by the medical community nor is it approved for bodybuilding or anti-aging usage.
Besides the side effects we discussed above, the big problem is that there are no long-term studies on what taking exogenous (outside) HGH will do to a healthy person. Most studies on the matter range from six months to as little as six weeks. The medical community is concerned that even though HGH hasn't been proven to increase your risk of cancer, the possibility hasn't been ruled out through long-term research.
Find out how to safely use HGH here or visit www.HGHInsider.com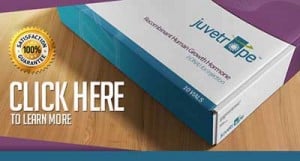 Be sure to check out www.HGHInsider.com for more info and articles on HGH (Human Hormone Growth).
What are your thoughts on HGH? Click here to discuss HGH on the EliteFitness.com forums.
[sc:signoff-std ]
Get MORE UNderground knowledge about steroids, bodybuilding drugs and the latest news on the steroid industry. new drugs and drug busts, we will send it all to you...
Subscribe to our mailing list and get interesting news and updates directly to your inbox.
Thank you for subscribing.
[Total:

82

Average:

2.9

/5]