From the desk of...
George Spellwin - Founder
EliteFitness.com
---
Dear Friend and Fellow Athlete,
Today, we continue Dr. Field Farrar of TestStackRx.com series on burning fat with FDA-approved diet drugs and with his own Anorectant No.10. Today he profiles the drug Belviq, in his report titled,
How You Use Diet Drugs to Hit Single Digit Body Fat Percentage
. Like Contrave, Belviq was one of the first new diet pills to be approved by FDA after their 12-year period of not approving any diet drugs at all. Belviq went before the FDA for approval twice. It was denied approval the first time because of its side effect profile, but was later approved as the obesity epidemic continued to get worse in this country. Being unbiased the doc wanted to give you a complete analysis of 3 current FDA-approved weight loss drugs that have proven to be effective for most. But in my opinion, these drugs side effects don't outweigh its benefits; I would just stick to a fat burner like Anorectant No.10 that doesn't have any harmful side-effects.
I'm not exactly sure why Dr. Farrar is sending me these interesting diet drug profiles to send to you at the same time as he is launching his own diet pill. But then, I have never understood my friend Dr. Farrar. If I was going to sell a diet drug, can you just imagine the crazy name I would come up with and the flashy label I would create! Like his tremendously effective testosterone accelerator, Test Stack No.17, that has the most sober label I've ever seen, Anorectant No.10 also has a label that is ridiculously minimal and unpretentious. Thank god these black and red pills burn fat like a snowball in hell, because Dr. Farrar is going to have to rely on word of mouth to sell this fat burner - the label with the barcode right in the center is not going to help him. Anorectant, in the product's name, comes from the word anorexiant - and means diet pill. The number 10 in the name comes from the ten insanely effective ingredients - most of which are not found in anything else on the market today and all of which are still legal - for the time being. So basically, my friend without regard for good marketing, named the most potent and ultra-efficient fat burner made in years, "Diet Pill 10" Anorectant No.10.
Please find Dr. Farrar's article below...
Yours in sport,

George Spellwin
---
How You Use Diet Drugs to Hit Single Digit Body Fat Percentage
From the desk of Dr. Field Farrar
Founder of TestStackRx.com
Phone: (888) 852-8091
Email Me: [email protected]
~Date.Current~
Hello guys!
Dr. Field Farrar, Founder of TestStackRx.com here. Yesterday I sent the first of three profiles about popular and effective FDA-approved prescription diet drug - Contrave. Before I get into the profile of today's FDA-approved drug, Belviq, I want you to understand why I am sharing these profiles. Some might say I'm silly to promote or educate people on competing weight loss drugs, but I would respectfully have to disagree. My primary duty as a doctor is to care for and educate my patients. Not everything that works is going to be right for everyone. I just want to lay my cards on the table so you can decide for yourself what makes sense for you to invest your hard-earned money in. We all want the same thing, to look sexy, lean and muscular and also feel great, and we want the most efficient means of medication/supplementation that will help us get there fastest.
Of course, I hope you will invest in my very effective fat burner Anorectant No.10, so you can watch it literally melt the fat right off you. But I also want to inform you about all your options and let you make your own choice, be it my Anorectant No.10, Belviq, Contrave, or Qsymia (that I profile tomorrow), or a combination of them.
Now let's examine the second FDA-approved drug called Belviq.
In September of 2010, a federal advisory committee voted against recommending approval for lorcaserin (a.k.a Belviq). In their 9-5 vote, 9 against, 5 for, the committee raised concerns about the safety of the drug, particularly the findings of tumors in rats. The concern was not only because cancer-promoting properties could not be ruled out, but because the weight loss efficacy was considered "marginal" [1].
After studies had been completed and additional information submitted to the FDA, an advisory panel convened in May of 2012 and voted 19-4-1 to recommend lorcaserin (a.k.a Belviq) for approval. The FDA stated that the weight loss findings passed FDA standards for efficacy and that the drug did not have cancer risks based on clarifications of the data [1]. It was approved in June of 2012.
What is Belviq?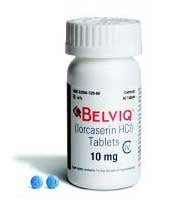 Belviq, as also known by the pharmaceutical name lorcaserin (or during development lorqess), is a weight-loss drug developed by Arena Pharmaceuticals [1].
It is a prescription medicine that may help with weight-related medical problems. And the product literature states that it should be used with a reduced-calorie diet and increased physical activity.
What is in Belviq?
The active ingredient in Belviq is lorcaserin hydrochloride, which works by curving your appetite. It does this by specifically targeting the brain receptors to produce serotonin. Serotonin is a neurotransmitter that triggers feelings of satiety (feeling full) and satisfaction. Serotonin is also involved in balancing your mood [4]. For example, when you are happy you have a surge of serotonin and when your serotonin is low or depleted you tend to feel sad.
Yesterday you learned that some of the possible side-effects of the diet drug Contrave consisted of "feeling sad or empty" and "suicidal behavior and ideation." Belviq and Anorectant No.10 do not cause these side-effects and actually will do the opposite by promoting "increased levels of happiness" and a "clear state of mind".
Does it work?
Belviq was tested in two clinical studies. One lasting one year with 4,008 participants and another lasting 2 years with 3,182 attendees.
The combined results showed [5]:
Almost half of people (47.1%) taking BELVIQ lost 5% or more of their body weight after 1 year of treatment, compared with those using diet and exercise alone (22.6%).
Some (22.4%) lost as much as 10% of their body weight after 1 year of treatment, compared with those using diet and exercise alone (8.7%).
Side Effects
As I mentioned in yesterday's profile of Contrave, the majority of prescription diet drugs come with serious side effects. Belviq's side effects include [6]:
Hypoglycemia
Headache
Decreased Hemoglobin
Constipation
Dizziness
Nausea
Fatigue
Belviq vs. Anorectant No.10
The recommended dose of Belviq is two 10mg tablets daily. A one month supply of Belviq which includes 60 tablets would cost you about $269 [7]. Again, that is not including the expense of the doctor's visit, a trip to the pharmacy and most importantly your time.
A perfect nutraceutical to stack or use as a standalone alternative is my Anorectant No.10.
Since hundreds of you have been emailing me about wanting to try the the Clenbuterol/Anorectant No.10 and Insulin Cycle - which you can read about here.

Download the Clen Anorectant Insulin cycle PDF Guide and Cycle Diagram for Free
Best regards,
Dr. Field Farrar
TestStackRx.com & Anorectant.com
References
[1] "Lorcaserin". Wikipedia. N.p., 2016. Web. 12 Mar. 2016.
[2] FDA Approves Belviq To Treat Some Overweight Or Obese Adults". Fda.gov. N.p., 2016. Web. 12 Mar. 2016.
[3]]Highlights Of Prescribing Information. 1st ed. BELV0391, 2012. Web. 12 Mar. 2016.
[4]Park, Alice, and Alice Park. "Belviq: 5 Things You Need To Know About The New Weight-Loss Pill | TIME.Com". TIME.com. N.p., 2016. Web. 12 Mar. 2016
[5]"BELVIQ® (Lorcaserin Hcl) CIV Is FDA Approved". Belviq.com. N.p., 2016. Web. 12 Mar. 2016.
[6] "Belviq Dosage Guide - Drugs.Com". Drugs.com. N.p., 2016. Web. 16 Mar. 2016.
[7] Stimulants, central et al. "Prices And Coupons For Belviq". Goodrx.com. N.p., 2016. Web. 16 Mar. 2016.
Get MORE UNderground knowledge about steroids, bodybuilding drugs and the latest news on the steroid industry. new drugs and drug busts, we will send it all to you...
Subscribe to our mailing list and get interesting news and updates directly to your inbox.
Thank you for subscribing.
[Total: 2 Average: 4.5/5]