From the desk of...
George Spellwin - Founder
EliteFitness.com
---
Dear Friend and Fellow Athlete,
Last week, I wrote to you about the amazing bodybuilder and model Sagi Kalev. And after publishing that interview, hundreds of you emailed me to ask who was the hot fitness babe in the photos with Sagi. Sagi was photographed with the lovely Timea Majorova and this week, I have an interview with Timea and a lot more pics! Here's a link to last week's interview with Sagi and the pics of him and Timea together!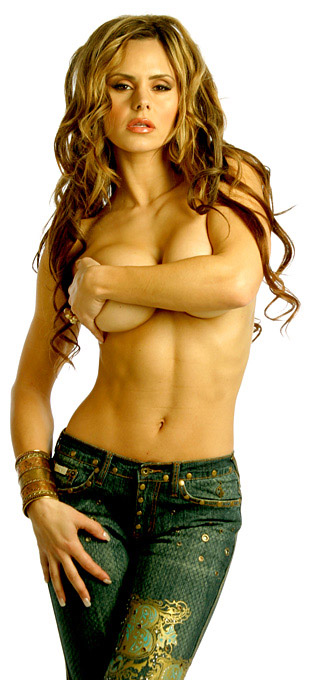 Timea Majorova is one of the hottest and most successful fitness models in the world. You've probably seen her on the cover of Muscle & Fitness, FLEX, or one of the many other magazines she's graced the front of. Now we've got Timea's sexy pictures courtesy of renown photorgapher George Kontaxis and a great interview from her to go along with them.
I'll be the first to admit that I, like many other guys in this world, get distracted when seeing those hot women on the front of muscle magazines in the grocery store checkout lanes. My fixated stare is sometimes only broken by the cashier having to repeat herself asking me to pay my grocery bill.
Lord knows what would happen if I was actually to meet one of these super sexy babes. All I know is that it probably wouldn't be good news. However, I was recently lucky enough to get the opportunity to at least talk to one of these breathtaking beauties. And her name is Timea Majorova.
Timea was one of the top IFBB competitors during her career and has been a major fitness magazine model for several years. She's appeared on the cover of FLEX, Iron Man, Planet Muscle, Muscle & Fitness, Oxygen, and a lot of other magazines. She's also worked extensively with my friend and famed fitness photographer Alex Ardenti.
And even though her hard work and sex appeal has landed her on the cover of magazines across the world, there is much, much more to her than just her looks. As you'll discover in this interview she was kind enough to do with me, Timea Majorova is a very bright and interesting woman.
And after reading this interview, make sure to check out Timea's site at TimeaMajorova.com.
George Spellwin: You were born in Zeliezovce, Slovakia and started sports very early on which is probably a very good reason for your successful IFBB career. Was this particular region of Slovakia a really big area for sports or have you just always taken a huge interest in sports?
George Kontaxis
- photographer George Kontaxis is a Los Angeles based photographer from Athens Greece and responsible for these amazing shots of Timea Majorova right here. He has been photographing fitness models such as Monica Brant and Timea Majorova. You can check out his photography of beautiful women GeorgeKontaxis.com.His work has been featured in MuscleMag, American Curves, Natural Muscle, EliteFitness.com and more. His work is focused on capturing the beauty of the male or female physique or both in stunning locations, creating images that are powerful and inspiring. His style is artistic and elegant and either in color or black and white his images are characterized by his unique way of capturing the human body. Discover more at GeorgeKontaxis.com.
Timea Majorova: I have always been very athletic and liked all kind of sports growing up. Even though I was born in a small town, I was always swimming in the summer and kayaking and skiing in the winter.
George Spellwin: Many people may have a tough time getting past your good looks. But once they do, they would discover that you are very bright as well since you speak four different languages (English, Hungarian, Russian, and Slovakian) and have a degree in physical therapy. Was it tough juggling this type of education along with your bodybuilding and fitness workouts?
Timea Majorova: I love to learn different languages but I also like traveling. So when I get time, I am usually studying. My next goal as far as languages go is to learn Spanish. But fitness is my lifestyle and I cannot live without being able to workout. Also training, teaching, and motivating people are the best. I love doing these things!
George Spellwin: I know that you have 10 commandments for fitness success and each commandment is great advice. When did you adopt these commandments?
Timea Majorova: I did the 10 commandments about 2 years ago. I think it is good to remind people how important health and taking care of our self is. Motivation is extremely important as well.
George Spellwin: I also know that you're a person who preaches motivation. Do you have any advice for how someone can better achieve motivation when they feel themselves getting away from what they're supposed to be doing in the gym?
Timea Majorova: Sometimes it's very hard to be motivated. It's always good to have goals. Looking good for the summer, looking good in jeans, or feeling better about being on the beach are good motivations. Also having a trainer is the best because that way there is no excuse for not coming to the gym.
George Spellwin: Do you have a favorite workout?
Timea Majorova: I love training legs. I feel my like my whole body is working when I train them. I also really like to go run on the beach.
George Spellwin: Do you have any advice for our members on how important being photographed and getting in magazines is to their success if they would ever hope to parlay their bodybuilding career towards a supplement or other type of endorsement contract?
Timea Majorova: It is important to be in magazines because it really helps to get a contract with a supplement company and also with acting and other modeling. Advertising is everything and so it is important to be in great shape to be ready when opportunity comes. I am representing SAN (supplement company) internationally for the 2nd yearso I need to be in great shape all the time.
George Spellwin: Now you stopped competing in the IFBB in 2001. Was this something where you just felt that it was time to move on?
Timea Majorova: Yes it was time to move on. I reached my goals and did what I wanted. I was training hard and loved competing but I felt my heart was not there anymore so it was time to move on.
George Spellwin: What would you say is the hardest part of being a fitness model?
Timea Majorova: Always being in top shape. It is hard sometimes with traveling - Especially overseas! You feel tired and jet lagged and you hold water from the plane. But you still need to be ready for the next day and it is just really hard work.
George Spellwin: How much easier does it make things when working with a veteran fitness photographer like Alex Ardenti or George Kontaxis?
Timea Majorova: I have been working with Alex for a long time. He is really good…one of the best! I like to work with him because he is professional, fast, and he knows what he is doing. I also like the pictures he takes.
George Spellwin: You went to school for acting. Are you still actively pursuing acting at this time?
Timea Majorova: Yes, sometimes. I have a thick accent so if it is something that would be a good fit for me, I would do it. I love acting.
George Spellwin: I've heard great reviews of the DVD that you released last year called "Timea Majorova: Living the American Dream" which talks about you and your lifestyle. Where's the best place for our members to find this wonderful DVD?
Timea Majorova: You can find this DVD at my website TimeaMajorova.com.
Yours in sport,

George Spellwin
PS: How about just one more pic!