From the desk of...
George Spellwin - Founder
EliteFitness.com
---
Proviron is the most popular trade name of Mesterolone - a very unique anabolic steroid. This compound comes only in an oral form, and it is a potent dihydrotestosterone (DHT) derivative. However, it is considered a weak androgen, so in the bodybuilding world proviron is quite useless when taken alone. Where proviron is truly useful is in a steroid stack, where its benefits become obvious.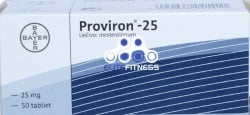 History and medical uses
Interestingly, proviron is one of the oldest anabolic steroids; in fact, its origins can be traced to 1930's. This steroid was first introduced to the market by by Schering, and it was used medically to treat hormone related conditions. In fact, to this day proviron is still used in medicine to treat low androgen symptoms because of its mild side effects and safety. What's more, proviron has also been used for hypogonadism, infertility, and even to increase the quality of sperm.
Over the years, many steroid users depended on proviron to serve as their ancillary on cycle, as well as help them during their post cycle (PCT) phase. After all, SERM's (selective estrogen receptor modulators) like clomid or nolvadex were not known in the fitness world until the 80's. Furthermore, aromatase inhibitor's (AIs), such as aromasin, were not available either. Due to these factors, proviron was the best option for blocking estrogen, reducing prolactin, boosting libido on cycle, and it was even used during PCT.
Anabolic and Androgenic ratio
Displaying an androgenic ratio of only 30, with an anabolic rating of 100-150, proviron is a very weak steroid. However, these numbers fail to tell the whole story, and you will see why further on in this profile.
Forms of delivery
As it was mentioned above, proviron comes in oral form, with tablets/capsules dosed at 25 and 50 milligrams (mgs).
How it works and DHT
The key to understanding proviron's background is knowing what dihydrotestosterone is. Also called DHT for short, dihydrotestosterone is an androgen hormone and sex steroid that gives males man-like features. Normally, only 5% of testosterone will get converted to DHT naturally, so when anabolic steroids are used, more of it gets produced, as well as more estrogen. Meanwhile, with proviron there is no need for any metabolism of testosterone to DHT, since it is already a DHT derivative, so this step is skipped. Additionally, there is no aromatization whatsoever with proviron. Consequently, what you have here is pure DHT with zero increase in estrogen levels.
The secret is that proviron is an actual DHT, with an addition of a methyl group at carbon 1, which protects the drug from being destroyed after ingestion. This is different to what we see with other oral steroids, most of which are 17alpha alkylated, and thus liver toxic. This makes proviron liver safe, allowing the user to run for it as long as they wish.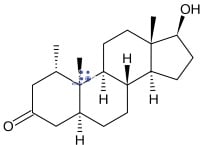 Moreover, proviron can also benefit you because it has a strong binding affinity for SHBG (sex hormone binding globulin). This means that it will make other steroids you use work better and stronger. Hence the reason why users have figured out that proviron works so well as an addition to a cycle.
Half life
The half life of proviron is 10-12 hours. So 2x/day dosing is suggested.
Detection times
Proviron is detectable for 5-6 weeks. Thus, if you are a tested athlete be careful using this compound.
Dosages
Proviron dosages range from 25 to 100mgs per day, with 50 mgs being the recommended standard dosage for most individuals.
Side effects
One of the biggest advantages of proviron is the fact that it has very mild side effects. For instance, it is non-estrogenic, so it cannot turn into estrogen within the body. In addition to that, proviron has very weak androgenic effects (such as aggression, heart strain, or insomnia). And if that were not enough, we can remind you that it is non-toxic to the liver.
Nonetheless, proviron is not completely side effect-free, and being a DHT derivative, it can cause head hair loss. Unfortunately, there is no way around this as finasteride or dutasteride will be useless because they only block the metabolization of testosterone to DHT, but proviron is already a DHT. What's more, since proviron helps inhibit estrogen, you can have dry joints from using it, especially when stacked with another dry compound like winstrol or masteron.
User results when used solo
Those who use proviron by itself will be very disappointed with their results. In the best of the cases there will be a little muscle hardening, some drying out of the body, and some boost in libido - that is about it. Obviously, for the money spent, you would be better served using another oral steroid, which is yet another reason users will always stack proviron with other compounds for a synergistic effect.
Stacking
Mesterolone stacks well with androgenic or estrogenic compounds because it provides the 'yin' for the 'yang' in your steroid stack. For instance, if you stack it with something androgenic, proviron won't increase the undesired effects, but it will enhance your cycle by binding to SHBG.
On the other hand, if you stack proviron with something estrogenic, it will help limit estrogen aromatization, preventing estrogenic side effects. This comes in handy for those who compete, and want to go into their show looking lean and dry. As a matter of fact, competitors have been known to stop their estrogenic compounds, and just use proviron leading up to the show.
However, where proviron really shines, is in stack with nandrolones, such as deca durabolin, or nandrolone phenylpropionate (NPP). The reason for this is that nandrolones convert to DHN (dehydronandrolone) instead of DHT. This weaker version of the male hormone will replace DHT, hence reducing your libido. Luckily, proviron provides the DHT you want as a male to boost sex drive, and prevent 'deca dick' symptoms.
Use during cycle and PCT
In spite of the fact that proviron will help inhibit estrogen, and at the very least it will not increase estrogen, we should not depend on proviron to do the work of aromatase inhibitors. Remember, back in the old days, guys did not have access to the ancillaries we have today, so don't take what we have available today for granted.
Moreover, some of the old school lifters will tell you to use proviron during post cycle therapy, which is up for debate. Today we have far superior ancillaries, and you should use SERMS like nolvadex and clomid during this time. Therefore, I do not recommend using proviron off cycle.
Cost and ease of access
Proviron is typically one of the more pricey oral steroids. On the other hand, the good news is that most steroid dealers will carry it, and it is widely available.
Female use
Although proviron is almost non-androgenic, it is still a DHT derivative, so females should be cautious when using it.
Forums
Get MORE UNderground knowledge about steroids, bodybuilding drugs and the latest news on the steroid industry. new drugs and drug busts, we will send it all to you...
Subscribe to our mailing list and get interesting news and updates directly to your inbox.
Thank you for subscribing.