The anabolic steroid trenbolone acetate, TA for short, is a drug highly prized by bodybuilder for its ability to promote outstanding mass and strength games. Finaplix-H (the H is for heifer) is a cattle implant that comes packaged in a cartridge containing 10 dosages of 10 pellets each (100 pellets total). Each pellet contains 20mg of trenbolone acetate for a total of 2 grams of TA per cartridge. In this issue of Elite Fitness News, we\'ll show you how to extract the powerful anabolic steroid TA from easily obtained (without a prescription) Finaplix pellets. And we\'ll show you how to get the kits from FinaFarm.com making extraction of the drug in your kitchen easier than ever.
Hardcore Trenbolone Video by Ricky V.

Trenbolone acetate, or TA, is a testosterone analogue that is 10-50 times more active in the human body than testosterone. TA does not convert to estrogen so users will see no water retention. However, although TA does not aromatize there are instances of gyno in its users. This is a strong drug and one of the first side effects users see is a darkening in urine color. It has been noted that TA is also very effective at burning fat, making Finaplix very popular amongst pre-contest bodybuilders. Not only does TA improve nitrogen retention, but it also raises many hormone levels.
In a study performed by the Department of Animal Sciences, rats were injected with Trenbolone Acetate daily for two weeks and then were tested for an increase in growth hormone (GH), insulin-like growth factor (IGF-1) and fibroblast growth factor (FGF). Not only did treated rats grow more rapidly, deposit less bodyfat and retain more protein, but satellite cells cultured from the Trenbolone-treated rats exhibited greater sensitivity to FGF and IGF-1 than cells cultured from control rats. This increased sensitivity was also accompanied by increased levels of GH, IGF-1 and FGF in the bodies of the rats. With an elevated cocktail of these growth promoting hormones flowing in an animals body, it cannot help but grow. Not only are the cells more sensitive to these hormones, there are more hormones available to utilize. It would be safe to say that similar kinds of hormonal increases and sensitivities would also be found in humans that used Trenbolone Acetate. A large increase in these hormone levels would not only help with growth, but would sky rocket the effectiveness of this drug due to the cocktail of the anabolic hormones present in the body.
What makes TA so attractive to bodybuilders and strength athletes is the incredible cosmetic and strength-producing effects it has on the body. Users report a dramatic increase in strength and muscle density along with a noticeable increase in fat loss. Unfortunately, research done on lab rats produced evidence that TA is an initiator of cancer. If you are predisposed to cancer, TA may speed up the process for you. Finaplix can be injected (the complete "how to" follows) or applied topically with DMSO.
Effective Dose:
75MG every other day. It is not recommended to use Finaplix in excess of 6 weeks.
1.) Here is the Sterile Kit as it surrounds a Fina cartridge.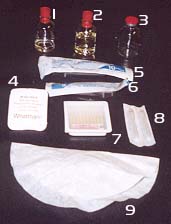 Inventory is as follows:
1.) Vial with "Disolving Solution"
2.) Vial with Oil
3.) Sterile Vial
4.) 0.45um GD/X Sterile Syringe Filter
5.) 10cc Syringe
6.) 5cc Syringe
7.) Fina Cart
8.) Two 18g Needles
9.) One Coffee Filter



You can find complete fina kits like this at FinaFarm.com -- check them out.

2.) Picture of a sealed cart.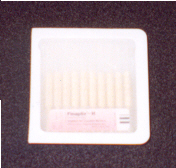 3.) Cart sitting outside of it\'s sealed packaging.

4.) Add pellets to vial 1(Disolving vial).
Be sure not to dump the pellets everywhere when you remove the plastic top off the cart.
You can accelerate the breakdown of the pellets by crushing them. I did not.
You can also use heat to accelerate the breakdown. I did not.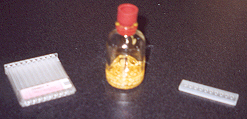 You can find vials and complete fina kits at FinaFarm.com -- check them out.
5.). Let it set for less than 1 hour to prevent glue oxidation.
I purposely allowed it to set for a couple of days so it would oxidize, thus forcing me to pre-filter using the coffee filter (I did this so the documentation would be more thorough).
You do not want the glue to oxidize, unless you enjoy wasting time.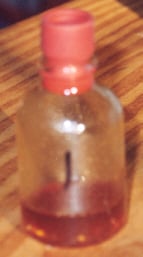 You can find vials, disolving solution, and complete fina kits at FinaFarm.com -- check them out.
6.) Get out the 5cc syringe and attach one of the 18g needles. Draw 2cc\'s of oil out of vial 2 for purging the sterile filter at the very end of this process.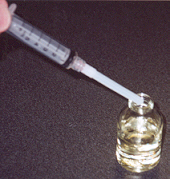 You can find syringes, sterile filters, and complete fina kits at FinaFarm.com -- check them out.
7.) Recap the 5cc syringe and store the 2cc\'s of oil for later use.


8.) Add the oil from vial 2 to vial 1 ever so gently (remember to do it within 1 hr).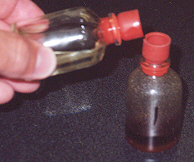 You can find sterile oil and complete fina kits at FinaFarm.com -- check them out.

9.) Pic of oil addition to vial 1 (again this should be done within 1 hr of adding pellets).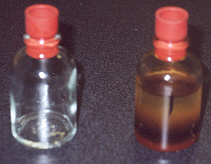 10.) At this point I gave it a gentle swirl and allowed it to settle. Your fina can sit at this state for over a years time and still be legit. The image below shows the recently swirled vial.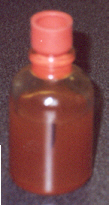 11.) By ensuring the oxidation of the glue (by not obeying the 1 hr rule). I was forced to pre-filter. This is where the coffee filter comes in handy. Insert a small funnel into vial 2 and insert the filter into the funnel as shown below in the pic. Don\'t pour yet, you must warm the mixture first.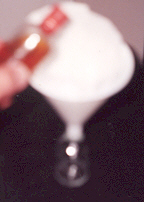 12.) Warm the mixture up. Animal suggests warming in boiling water or on an electric eye. I used hot water from the sink faucet as shown below. This helped lower the viscosity of the mixture so it was easily poured.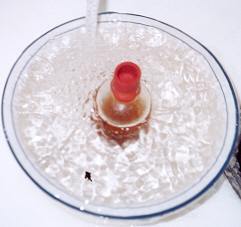 13.) Pour the top layer into the funnel leaving the glues behind in vial.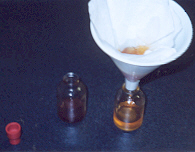 14.) Allow the oil to drip through the filter and then pour the remaining oil/glue into the funnel and allow it to filter overnight. The next morning use rubber gloves( I used zip-loc bags over my hands) to protect your hands while wringing out the filter into the funnel.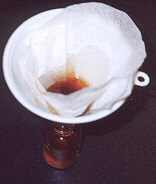 15.) Preparation for using Version 4 ( or V4) of Animals Sterile filtering. You should have pre-filtered vial 2, sterile vial 3, sterile filter, 10cc syringe and two 18g needles. Attach one 18g needle to 10cc syringe. Remove cap from sterile vial 3 and insert the other 18g needle(you will feel the pressure equalize). You are now ready to draw and filter.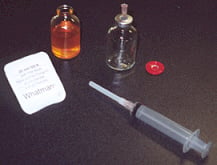 16.) Draw with the 10cc syringe.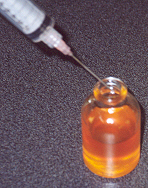 17.) Replace the needle with the sterile filter. Insert filter into needle sticking out of sterile vial 3, and begin to filter. As Animal warns, hold on to everything securely so your fina doesn\'t go flying.
Alternate instructions: Remove the needle, place the filter on the syringe, and then place the needle on the filter. Insert needle into stopper and filter the fina into the vial. NOTE: Leave the second needle in the stopper (the one used to release the pressure in the vial). By leaving the needle in the stopper this allows for the air inside the vial to remain at atmospheric pressure, thus when you release the plunger the air inside the vial will not be pressurized and try to back fill the syringe with what was liquid was left in the filter.



18.) Repeat the draw and filter above until all fina is sterile filtered into sterile vial 3. Then take the 5cc syringe (with the 2cc of oil you have stored) and purge the sterile filter of any remaining \'good\' stuff as shown below.



You can find syringe filters, and complete fina kits like this at FinaFarm.com -- check them out. 19.) WHA-LA! There you have it. Time to go FEED YOUR CATTLE!(sorry for the blurry photo)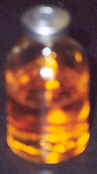 Hopefully this helps your beef production this year!
Interested in learning more about Anabolic Steroids? Check out the excerpts from my hardcore anabolic steroid guide Chemical Wizardry -- including articles on how bodybuilders are using and making GHB, Finaplix, Anavar, and Clenbuterol!

Hey, back in college, I looked about as good as the other guys, but when it came to girls, I just wasn\'t getting any. Zero, Nada, None! While there were a few guys in college who were getting as much as they could handle, and most of the guys were hooking up at least once in a while, the only body givein me any good lovein was myself!
It took me about 10 years to put it all together, but let\'s just say, although I spent hundreds of dollars and thousands of hours mastering seduction, I now have the skills that when used to seduce a woman - well, it\'s almost not fair! Please check it out, and I\'ll teach you those skills!


Your Source for Hardcore Sports Nutrition!All the major brands of Nutritional Supplements with everyday prices that are 20% to 60% off list prices and free shipping on orders over $49!For the next 72 hours only, take $10 off any order of $99 or more. That\'s in addition to our everyday low prices of 30% to 60% off! Use coupon code "dollars10" at checkout.

George\'s Top Five Steroid Precursor Picks
Substrate Solutions Nor Stack
List Price: $46.99
For 72 hours only: $30.80 (You save: 34%)
Ergo Pharm 1-AD
List Price: $69.95
For 72 hours only: $46.17 (You save: 34%)
Ergo Pharm Andro Spray
List Price: $49.95
For 72 hours only: $33.00(You save: 34%)
Biotest 4 AD EC
List Price: $59.95
For 72 hours only: $39.57(You save: 34%)
Molecular Nutrition Boldione 60 caps
List Price: $59.95
For 72 hours only: $38.47(You save: 36%)
Support Elite Fitness! Become a...

Today and for the next 72 hours only, you can get a FREE 1 month Platinum Membership! [read more...] Including:

Platinum Search! The largest archive in the world!

Real Time, Uncensored, Platinum Chat!

Access the Private Platinum Discussion
Boards!

Private Messaging with 2500 messages.

Special Stars
+ 150 free
Karma dots




!

A free monthly $11.97 Discount Coupon for EliteFitnessNutrition.com.

Seven Free Hardcore Steroid Bonus Reports valued at $273.

NO banner ads and NO pop-up ads!

And you save the $40 initiation fee!


Check out these specials good for the next 72 hours only!
---
Dear friends,
You guys asked for it and we listened. One of the most requested improvements for our Platinum Membership program was nutritional supplement discounts.
Three weeks ago, we launched the Elite Fitness Nutrition supplement store at www.EliteFitnessNutrition.com. We\'ve got all the best brands and at savings of 20% to 60% off.
And there\'s special extra savings just for Platinum Members -- savings on top of the already deeply discounted pricing.
When you place an order for $99 or more, you can use your own Platinum coupon code and you\'ll save $11.97 (the cost of your Platinum Membership) off your order. If you order once a month, your Platinum Membership is as good as free. Order more than once a month, and it\'s like we\'re paying you to be Platinum!
To get your $11.97 savings, make sure you order\'s over $99, then enter your Platinum Coupon Code in the coupon code box when you check out.
For smaller orders, use the coupon code "freeshipping" and your order of $49 or more ships UPS Ground for free.
There\'s much more to come for Platinum Members. Find out why you need to go Platinum today and to get your coupon code !


Yours in sport,

George Spellwin
Here\'s a mind blowing training program I came across that you have got to check out. It\'s the story of how British steroid guru Mick Hart juiced his son Chris, and took him in one year\'s time, from zero to British Championship qualifier.
Chris and his Dad made a one year goal to prepare him for a bodybuilding competition, in which he had decided he wanted to compete. In the process his Dad built him the physique he had always wanted to have -- lean, muscled, symmetrical and perfectly shaped.
Mick\'s been around a long time, but this time, he really put his money where his mouth is and juiced his own son. In this week\'s Elite Fitness News, you\'ll read all about why he juiced his son and how he transformed his body to help him get the exact look he wanted (which you can see in the photo on the left).
You\'ll hear about Mick\'s no-nonsense, no-hype, and no-BS training plan; which is based on his years of experience training elite athletes, and is guaranteed to give you more chance of building a lean muscled body than probably any other readily available training information out there.
Here\'s what Chris looked like before he went on his Dad\'s cycle: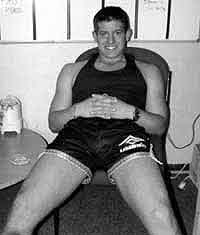 you\'ll learn exactly what Chris ate, what workout plan he followed (both to gain mass and define), and which supplements and steroids he took throughout the whole year -- (complete with doses and cycles) which assisted him in making such incredible progress.
If you want to never again waste another moment in the gym wondering if your own training plan, nutrition or steroid cycles will give you the look you want, then please check out the following link for this weeks Elite Fitness News to read about Chris\'s amazing transformation and how you can copy it to quickly build your own lean, muscled, symmetrical physique.