...."Este é um grande novato Oral Bulking ciclo - ideal para novos usuários..."... Dylan Gemelli
assim, a queda é aqui, Mas você ainda não aumentado acima? Mas! How can you bulk up if you don't like doing injections – bem, Eu vou te ensinar como hoje. de fato, Neste artigo eu vou te ensinar como ganhar massa sem engordar! (Prepare-se)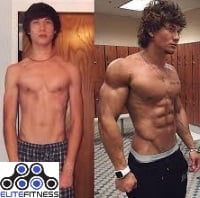 Este é o meu favorito: Ciclo de bulking único oral para 8 semanas.
Por que 8 semanas?
Grandes resultados
Ganhos musculares grande
Mais seguro no fígado
Mais fácil de ver resultados
Maneira mais rápida de mudar de direção
Líquido de limpeza PCT
Recuperar rapidamente
Notas do ciclo
Finalidade: To bulk up – but stay lean. Significado, you see your abs but you got more muscles.
Resultados: You can add 10-30lbs of lean muscle if done right. Obviamente, first time users will get the best bulking benefits. Mas! Make sure you're eating a good amount of calories.
Efeitos colaterais: The only sides effects are on the liver and kidneys. They aren't very bad, and if you use N2Guard or Organ ST – you should have no side effects at all.
8
Week Cycle
Semana 1-4
30

mgs Dbol

(Dianabol)/dia
25

mgs Ostabolic

(

ostarine mk

)/dia
10

mgs Cardarine

(GW)/dia
7

caps N2Guard/day
Semana 5-8
50

mgs Dbol/day

50

mgs Ostabolic

(

ostarine mk

)/dia
20

mgs Cardarine

(GW)/dia
7

caps N2Guard/day
Mini-PCT (4 semanas)
Semana 9-12
50

mgs clomid/day

20

mgs nolvadex/day

5

tabs HCGenerate ES/day

5

caps N2Guard/day
Perguntas Freqüentes
I'm trying to bulk up, why use cardarine (GW)?
Even when you bulk, you need to have stamina, and you need to stay lean. Cardarine (GW) will help you stay lean and have high amounts of stamina during training. That means longer, more intense workouts that will lead to bigger muscles.
Why do I need N2Guard?
While I personally use N2Guard on each cycle to keep my liver, kidneys and organs clean (full disclosure), I think everyone can choose what they want to take. N2Guard has all the ingredients of a perfect organ, liver and kidney guard for steroid cycles.
Why does the dbol dose go from 30mgs to 50mgs?
Dianabol is a very special steroid, and it's best to cycle it in a pyramid fashion. This way you can get used to the side effects. It's best to go up, then later to go down.
Glossário
Day = every day

Caps = Cápsulas
mg = miligramas

tabs = tablets

pct = post cycle therapy
Fóruns
Want to discuss your Oral cycle on our fóruns? Click here...
Seu em esporte,

George Spellwin
Get MORE UNderground knowledge about steroids

,

bodybuilding drugs and the latest news on the steroid industry

.

new drugs and drug busts

,

we will send it all to you..

.

Subscribe to our mailing list and get interesting news and updates directly to your inbox.

Thank you for subscribing.