Gymnema Sylvestre is a supplement that's derived from a climbing shrub that is native to tropical areas of India and Africa. It has been used for centuries for all kinds of ailments in Eastern medicine. In modern times, Gymnema Sylvestre has been adopted by those in the fitness and bodybuilding world for its fat loss and muscle gain benefits. In this profile, we will tell you why you must use this in your supplement arsenal for better results.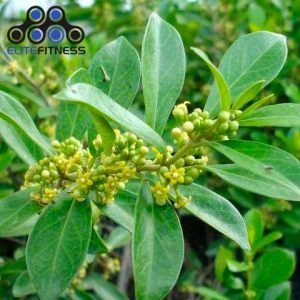 How Gymnema Sylvestre benefits bodybuilders
1. Inflammation help: Everyday people complain on bodybuilding forums about a new injury. Although injury prevention isn't the main benefit for using Gymnema Sylvestre, this supplement still does a good job of decreasing inflammation and speeding up healing from nagging injuries. The main way it does this is by reducing the amount of sugar that's absorbed. Sugar is a natural magnet to disease, so limiting it will help the bodybuilder in serious ways. It will help keep you kicking ass and healthy, so you can stay in the gym, and avoid having to sit out a workout session.
2. Fat loss: There is no such thing as a fat bodybuilder. If you walk into a contest at over 10% body fat, you are likely to be laughed off the stage. Keeping body fat low ensures that your abs pop out and keeps your muscle cut. In a human study of obese individuals, Gymnema Sylvestre was found to cause a 6% loss of the participants' body weight and helped them curb appetite. Another study showed subjects who were given high fat foods gained less weight than expected.
3. Heart health: Guess what happens on a steroid cycle? Your cholesterol levels go sky high every time. The reason is simple: steroids hurt your heart health. Add the sheer amount of food that bodybuilders consume, and you can easily understand why many of these athletes have a shortened lifespan and get strokes at a young age. The good news, though, is that Gymnema Sylvestre may help drop LDL cholesterol by affecting lipid levels and fat absorption. Studies have also show that it simultaneously increases good cholesterol.
4. Decreasing appetite: Many bodybuilders take stimulant-based fat burners to lower appetite. The truth is these products only work in the short term. Plus, they harm the heart while lowering endurance, which is not good for your fitness in any capacity. Gymnema Sylvestre isn't a stimulant at all, nor is it a hormone, nor does it have any negative effects on the body.
Instead, it has a component called gymnemic acid, which will help you lose your sugar cravings by blocking the sugar receptors so you don't taste sweet foods. Since sugar is so horrible for weight loss, the less you consume of it, the more fat you will lose. If you can manage to eliminate sugar from your diet, you not only will lose fat but also make your body healthy.
5. Blood sugar: Gymnema Sylvestre is so good at lowering blood sugar that it's called a 'destroyer of sugar' in parts of India. It does this by blocking intestinal receptors from sugar, which means you won't get as much of a sugar spike after eating even high carb meals. 4 This means less fat is stored after you eat, and less insulin is released by the pancreas.
6. Insulin production: Gymnema Sylvestre will help balance insulin release after you eat food and aid the body in clearing out sugar from the blood much faster. It will also help the pancreas run more efficiently, thus making your entire body more insulin sensitive. The problem with anabolic steroid use is that steroids can cause your body to become more insulin resistant. So, you may gain more fat on cycle than you'd like.
Those who are insulin sensitive experience a much easier time losing fat, have more energy, and can take better advantage of the nutrition in their meals. Bodybuilders absolutely must be insulin sensitive if they are to succeed in the sport. Otherwise, they won't be able to lose fat and gain muscle properly ahead of a show. For this reason, whether you are a natural bodybuilder or use anabolic steroids, Gymnema Sylvestre is a very important supplement to use.
Dosage
Gymnema Sylvestre can be taken 30-45 minutes before meals or periodically throughout the day. It will work far better when stacked with other nutrition partitioning and fat storage blocking supplements like Crape Myrtle Tannis, Bergenin, Green Tea extract, 4-hydroxyisoleucine, etc.
N2slin contains 150mgs per serving of Gymnema Sylvestre along with a half dozen additional ingredients, including the ones we mentioned above. This synergy helps you utilize the food you eat and feed your muscles, along with helping blood sugar and blocking fat from being accumulated on your body. Bodybuilders and serious athletes should take 2 capsules of N2slin before their meals, or 1 capsule throughout the day for best results. N2slin is sold at N2bm.com.

More Videos about Gymnema Sylvestre.
Forums
Forums on our forums? read on:
Yours in sport,

George Spellwin
Get MORE UNderground knowledge about steroids, bodybuilding drugs and the latest news on the steroid industry. new drugs and drug busts, we will send it all to you...
Subscribe to our mailing list and get interesting news and updates directly to your inbox.
Thank you for subscribing.