Rob Riches is one of the top natural bodybuilders in the world and owing in large part to Rob Riches diet, he's also graced the pages of countless fitness and muscle magazines.  Here\'s part 4 of his interview with George Spellwin! Here\'s a link to Part 3 of Rob Riches Abs interview published a few days ago in case you missed it.
George Spellwin: What kind of diet do you follow while training and do you have a favorite meal?
Rob Riches: As we all know, having the right diet is essential to maintaining peak condition, and can literally make or break a competitor in the final week prior to a competition. Most fitness competitors and models have a good understating of what foods they should be eating, and which ones to stay away from. But being able to stick to such a strict diet is often one of the hardest aspects of modelling/competing.
I've found the best way for me personally is to never stray too far from the main foods I eat when competing, even if I do not have a competition planned. By always having these foods in my diet, which are typically lean proteins such as turkey, chicken, eggs, beef, whole grains such as oats, brown rice, rye, and yams, plus plenty of green fibrous veg, I don't find it hard to tighten up my diet in-lieu of a contest. Forming a strong habit and sticking to it is the key to maintaining a steady diet that will pay dividends to both your training and career.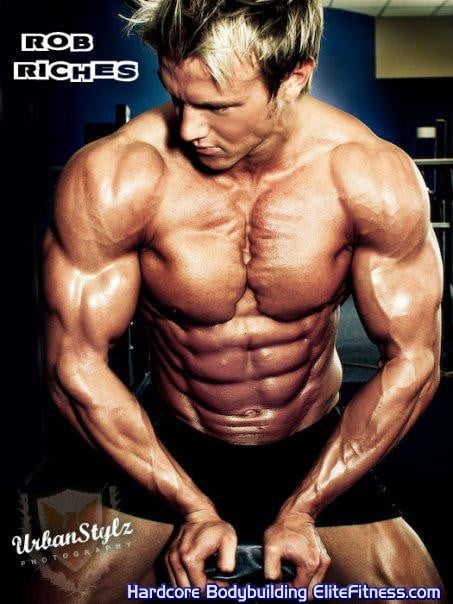 I've researched and followed many different 'diet' plans over the years and remember reading something in a magazine about certain foods or short-stage cycles, and was intrigued as to what difference this would make to my body. I would cut the pages out and keep them in a big folder along with training articles, features, photo shoots that I liked – anything that I feel would be of use as a point of reference. I'd research these topics further, buying books, reading journals, and sourcing as much material as I could on the Internet (although as I said before, you have to question the source of where much of this information would come from).
I would always think to myself 'Hhmm, that's interesting, Why does it have that effect?' Asking the question 'Why' to everything I read or heard really allowed me to find out as much as I could about the subject. I asked a lot of questions to the point where I think I pushed a lot of people towards the edge of their understanding, and if they couldn't explain it in such depth and detail to the point where I could understand in full, I would find someone or somewhere else that could. They say that knowledge is power, and when it comes to perfecting your physique, you need as much power as you can get – both in and out of the gym.
After several years of trying different approaches to my diet, I've found one that I can seem to control with accuracy, allowing me to add weight or cut up pretty quickly. The foundation of my approach to good dieting, is the cavemen diet. If we didn't eat it thousands of years ago, I'm not going to start eating it now. Our bodies take thousands of years to evolve to metabolizing certain food groups, and it has never been more prevalent than today, with the country being at the height of an obesity epidemic due to the recent rise of all of these fast-food and manufactured foods. A simple rule I have is that 'If it doesn't walk, fly, swim, or grow, then it's not to be eaten'.
I also believe that our heritage and ethnicity can provide the key to which foods will work best for us, and I've even looked into blood-type diets. The approach that works best for me is a high-protein, low-carb diet, manipulating my carb intake over a 4-day period. My fats are pretty high, especially on lower carb days, although they are mostly from only a few key sources.
I eat small meals frequently throughout the day, and exercise portion control. By that, I mean I only put on my plate what I feel I need to eat, and once it's gone, that's it. No more until my next meal! It's tough at times, but it's what keeps me on track. Even on the road, I am always trying to eat set meals at certain times, and am nearly always seen with a small hamper or bag of food. Like I tell my clients – it's something that just has to be done if you want that dream physique.
My average day will look something like this.
6:30 am. Wake up, have a strong black coffee (normally a quad from Starbucks – that's 4 shots) as well as a litre of water, and head down the gym to do my morning cardio and abs.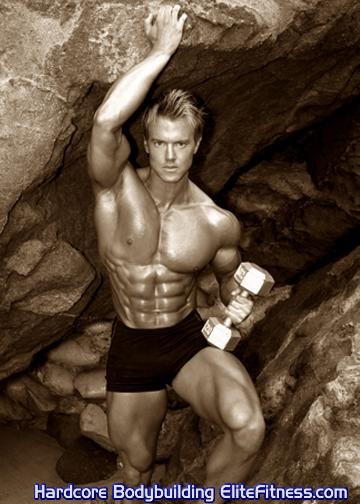 7.30 am. Meal 1. Cup of steel-cut oats mixed with one-egg white and a handful of organic raisins and cinnamon. 5 egg whites mixed with a scoop of LA Whey (Vanilla), cooked as pancake batter.
10.00 am. 2 Scoops of LA Whey, blended with a small teaspoon of almond butter, ice and 10oz cold water.
1.00 pm. Large chicken breast (normally baked the night before with herbs and cayenne pepper, and a freshly squeezed lemon, and eaten chilled), with plenty of grilled asparagus, steamed Chinese peas, broccoli, and other veg such as peppers, zuccuni and bok choy. (I don't usually limit myself to green veg, as it's mostly fibrous carbs and provides extra roughage that helps cleanse and regulate. It also helps keep me from feeling hungry after I've just eaten)
2.30 pm. (Post Workout) 2 scoops of LA Whey (Chocolate) blended with ice and 10oz cold water, and a piece of fruit, usually a pear, apple or berries. I also take 2 tablets of Norateen Hollywood Body – a natural testosterone booster that I helped developed with LA Muscle, the supplement company that I have been sponsored by since the beginning)
3.30 pm. Weights Workout. My workouts are hard and intense and usually do not last longer than 60 minutes. I always start of with big compound movements and then work towards more isolated and even plyometrics towards the end of my workout.
5.00 pm (Post Workout). A medium sized yam (usually baked) with a large chicken breast (freshly baked or grilled), and a cupful of chopped broccoli and other greens. (I usually drizzle with some olive oil, and season with herbs and spices)
8.00 pm. I usually have fish for my final meal, although occasionally have steak. For fish, I have around 260g of Orange Roughy, or a small fillet of salmon, with grilled asparagus, spinach and broccoli. (I cut my carbs out for my last meal)
11.00 pm I scoop of LA Whey (Vanilla) blended with 5g of glutamine, ice and 8oz cold water. I also take ZMA.
11.30 pm. Bed
Here\'s some links to talk more about Rob Riches on the Elite Fitness forums!
Here\'s a link to Part 3 of the interview Rob Riches Abs.
Yours in sport,

George Spellwin
background="//www.elitefitness.com/b2/6pack/6pack_files/sideshadows.jpg" align="center">
Outlaw Bodybuilder Bitch Slaps the
Weight-Loss "Experts" Who Earn Fortunes On The Sweat And Dreams
Of Young Men & Women, and Finally Reveals The Simple Proven
Science of Rapid Fat Loss No One Else Will Tell You About...
Here\'s a link to Turbo-Charge Your Metabolism,
Gain Muscle, and Burn Off All Your Body Fat. Plus Discover How He\'s Taught Thousands of People
to Get Leaner Faster Than They Ever Thought Possible!
Even if You Have
Less-than Average Genetics... Even If You\'ve Never Succeeded
at Losing Weight Before... Even If You Have Stubborn Fat Deposits
That Don\'t Seem To Budge...
Right Here You\'ve
Found The Fat Loss Success System You\'ve Been Looking For!
Get MORE UNderground knowledge about steroids, bodybuilding drugs and the latest news on the steroid industry. new drugs and drug busts, we will send it all to you...
Subscribe to our mailing list and get interesting news and updates directly to your inbox.
Thank you for subscribing.