My friend Anthony Roberts sent me the following article about his experience with Stealth Injectables.
My Experience with Stealth Injectables
By Anthony Roberts
Although Stealth Injectables are just recently experiencing a surge in popularity, I had the good fortune of trying them out about half a year ago, before they first hit the mass market. At the time, I wasn't yet on Hormone Replacement Therapy, and was still obtaining all of my anabolics from the black market, so I was more than interested in trying out a product from a new manufacturer... and since I knew some of the parties involved in formulating the products and marketing them, I was sure that I would be getting a good product.
Most people know that I typically favor cycles built around a base of testosterone and usually I tend to include Masteron as well. Since I was just finishing up a cycle of Boldenone (base) and a couple of different types of test (Prop + Suspension), this would be a great time to switch up compounds and give a new product a try. So I requested a couple of sachets of SuperTest (a 450mg test blend containing 5 different types of various short, medium, and long esters) and some Stealth Masteron (100mgs/mg of Drostanolone Propionate). I've known the parties involved in Stealth Labs for years now, and typically speak to them at least a couple of times a month... that's an important factor when I decide to try out a new Underground Lab, because at this stage in my career, I almost always avoid the new UG's who seem to be popping up every other day. In fact, except for Stealth Labs, I haven't used a new Underground Lab in years. But knowing the parties involved (and the shipping method), I just had to give this stuff a go.
I should add at this point that I'm also very hesitant to have anything shipped to me, because even though I'm far from "famous"- I tend to think that a Post Office Box with the name "Anthony Roberts" on it may draw a bit of attention that I don't want. Nonetheless, I requested my preferred stack of Test + Masteron, and waited for it to arrive - which it did, about ten days later. Since I knew exactly how much of each product I had ordered, I only had to check the codes on the otherwise identical sachets in order to figure out which ones contained each product. Oh... in case you weren't aware, each sachet is disguised as something else, to avoid detection by customs, and imprinted on each sachet is a code which tells you exactly what's in it.
So I received my first non-domestic United States order in nearly a decade, and I was on my way home to figure out exactly how to get it from the sachets into some kind of sterile receptacle. The first thing that was a problem for me was the pressure gradient of the sachets. You see, with a normal sterile vial, you can inject a couple of cc's of air into it, therefore increasing the pressure gradient and making it easier to withdraw the oil. With sachets, there is no pressure gradient to speak of, and you can't inject air into it. So what I did was I opened up one corner of the sachet and inserted a 1.5" needle into the hole, and started to withdraw oil. After that, I shot the oil into a vial I had left over from my last cycle. I suppose I could have just kept the oil in the pin and shot it directly out of the pin I drew it with, but I wanted to have it all in a vial, so I wouldn't have a ton of pins lying around for the duration of my cycle. When the sachets started to get empty, I sort of "rolled" them up like a spent tube of toothpaste and pushed the oil towards the needle I was using to extract them. Honestly, I spilled a bit of oil when I was transferring it from the sachets into the vial, but they must be overfilled by a decent amount, because I still got enough oil out of each sachet to produce 5mls in the vial.
Before DRUGS RULED the Sport of Bodybuilding ...
Chuck Sipes attained a peak condition where, at 5 feet 9-1/2 inches, he weighed 220 lbs. His measurements were: arms, 19-1/2 inches; chest, 50 inches; waist, 32 inches; thighs, 25-1/2 inches; calves, 18 inches.

This veteran of the iron game was enormously strong and, at a bodyweight of 220 lbs, could bench press 570 lbs, perform full squats with 600 lbs, and do barbell curls with 250 lbs. All this back in the 1950s.

Now you can discover how this IFBB professional packed on muscle mass, power, and got shredded, with the most dramatic, realistic, results-producing System ever devised (even to this day, nearly 4 decades later). to promote the ultimate in size and strength.

Chuck Sipes
(1959 IFBB Mr. America,
1961 Mr. Universe,
and 1968 Mr. World).
Imagine the massive, lean, muscular body you could build if you had access to Chuck\'s training secrets...

I have to warn you though some people find the shots to be pretty painful. I've done so many shots over the years, I'm pretty used to painful shots... Stealth didn't particularly bother me in that respect. However, I am aware that many users experience pain from Stealth Labs products. This is easily remedied by either cutting the Stealth Oil with some sterile oil or B-12 (I always keep some B-12 around just in case I need to cut some oil-based steroids with it). Honestly, right now I'm using human grade gear (from a compounding pharmacy, as per my prescription), and I can't say that Stealth products are any more painful, or create any more soreness than the Testosterone Propionate I get straight from my doctor.
So how did the cycle go? Well, the Test and Masteron produced the same kind of results I've gotten from any high quality gear... I was sorry to see the last of it go, actually. Over the last decade, I've probably tried everything from Human Grade to most of the Underground Labs, and everything in-between. Out of all the gear I've tried, I have to say that the combination of Test and Masteron is still my favorite cycle. The truth of the matter is that I've done nearly every different type of test, and was even one of the first people to ever try Masteron Enanthate, before it became commercially available. Stealth Products felt like they worked as well as any products I've ever used, and like I've said - I've used a lot of different products over the years.
A few weeks after I first tried Stealth Labs' products, they were introduced to the market and I wrote an article about them. Then, a few weeks after that, they were sent away to a lab to be tested, and the results confirmed my initial impression of the products... that they are accurately dosed, as claimed by the manufacturer. As the weeks and months went by, after the initial product launch of the Stealth line, I got some feedback from other users who I know and all of them were happy with their products. In fact (and I typically consider this to be the most important factor in judging someone's satisfaction with a given product) - all of the people I know who have used Stealth Injectables have made a second purchase.
Also, it's very noteworthy that Stealth Labs has actually made their reputation through being an innovative company (Stealth Packaging) and providing a quality product. Most other new labs follow a pretty standard formula in order to get their "reputation" known on the steroid forums around the net. Basically, what happens is someone decides to run their own lab (usually a moderator on whatever board the lab's name first appears on), and they offer products for free (or at cost) to the staff on the board they are starting out on. Most of the mods then become "references" for that source, and often participate in a referral program for the source- i.e. when they get a source-check for a competing lab, they say something like "Yeah, he's ok, but I usually use [email protected]" or something clever like that. Then when the person goes to SuperGoodLabs and mentions the moderator who gave them the reference, that mod is credited and usually receives free products in return. That's usually how most underground labs get their start and their initial client base. Stealth Labs is really one of my favorite labs because they never went that route... they just appeared on the market and because of their unique packaging they had a lot of people interested in becoming clients. And like I said, because they produce a nice quality product, they keep their clients and earn a lot of repeat business. No bribes to mods necessary here.
So that was my experience with Stealth Injectables, and a little bit extra information for you... and although I've used many different brands of underground products over the last few years, Stealth has definitely made it onto my short list of favorites. Learn more at SteroidProfiles.com.
Yours in sport,

George Spellwin
Check this out from our sponsors - then find all this weeks EliteFitness.com News below.
The Beyond Steroidse-book program tells you all the info you\'ll ever need to build a perfect, lean muscular physique using all the world\'s newest, rarest and most effective bodybuilding drugs... The ones that really work, but have never before been written about!
You also get all the inside information on radical ways to combine the new drugs with the "classic anabolic steroids" in ways most Pro Bodybuilders don\'t even understand.
"What a great package of info this book is! So much time and research had to go into this."
"I wish I had his book 20 years ago. Easy reading and opinions on what fits my needs."
~Phil Hernon, IFBB Pro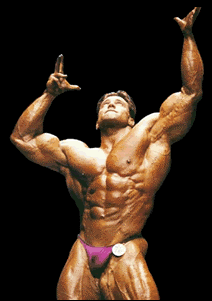 And since this is a downloadable e-book, you can start reading it in just minutes after you place your order - I know I hate waiting for something in the mail and that\'s not an issue with this e-book that you\'ll get access to right away.
Plus, if you invest in Beyond Steroids in the next 72 hours, you\'ll also get the 8 Free Underground Anabolic Steroid "Bribes" valued at $350 all for free! And there\'s no waiting on the Free bonuses either! But remember, in 72 hours, the deal\'s off!
Finally, I am so certain that this is the most mind blowingly effective guide ever created for building unheard of amounts of muscularity in the shortest time possible that I am prepared to offer you our iron-clad triple your money back satisfaction guarantee. There is no other e-book program that has the balls to make a promise like that. Hell, if you can\'t gain tremendous amounts of muscle and burn off pounds of fat with this program, you need your money back badly!
Go Beyond Steroids!Use this link to discover the entire muscle building program, get your 8 Free Underground Anabolic Steroid "Bribes", and learn all about our guarantee.
PS: Be sure to read the following underground, muscle-building letter from my friend Anthony Roberts.
From the desk of Anthony Roberts
Professional Bodybuilding Coach
and author of Beyond Steroids

Dear fellow athlete,
I hope you\'ll check out my new e-book that\'s about how you can use the very latest bodybuilding drugs. In the 300+ pages, I\'ll tell you how to build muscle using human growth hormone (HGH), Insulin-like Growth Factor 1 (IGF-1), Humulin-R Insulin, Mechano Growth Factor (MGF), Lr3IGF-1, MK-677, SM-130686, Somatokine, Tabimorilin (NN703), and a host of other growth hormone derivatives and designer anabolic steroids for developing the massive, muscular body of your dreams. My e-Book is titled Beyond Steroids, because it does just that... It shows you how to take your physique Beyond Steroids and it\'s published by EliteFitness.
In Beyond Steroids, I take all the old school bodybuilding steroids and show you how to use them in innovative new ways - ones that will promote lightning-fast muscular gains. I\'ll also show you how to take all the old school bodybuilding drugs and stack them with all the new GH, IGF-1 and Insulin growth factors for even more muscle building benefit.
As George wrote in his Promo letter, "If you are an educated steroid user with a couple of cycles under his belt, yet you still don\'t have the truly massive, "dry" muscular look of paper thin skin stretched tightly over tremendous, sinewy muscle that is completely devoid of body fat, then Beyond Steroids was written for you, because it will get you to that level faster than you ever thought possible."
But, my book is not for the sucker who let\'s his dealer plan his cycles and will run whatever counterfeit gear the guy has around at the moment. And it is definitely not for the complete steroid virgin. However, if that doesn\'t sound like you, and I don\'t think it does given that you already come to Elite, then I really hope you\'ll click here to read George\'s promo letter very closely. Why? Because this letter is all about my Beyond Steroids program that is the real deal for taking your physique to the next level of muscular perfection and surpassing even the toughest plateaus you may hit. Plus, George has added some nice extras for the members this week only.
Follow this link to go Beyond Steroids!
Best regards,
Anthony Roberts