From the desk of...
George Spellwin - Founder
EliteFitness.com
---
Dear Friend and Fellow Athlete,
For the most part, the NBA has steered clear of the steroid problems that plague other professional sports leagues.  But when Lebron James' name came up as a potential user of steroids, everyone in the NBA was panicking.  Since the accusations were leveled, a big controversy has ignited.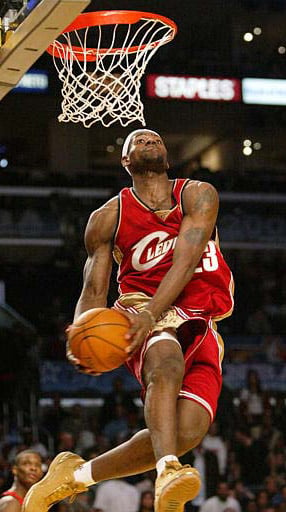 Seeing as how he carries his Cleveland Cavaliers team day in and day out, many people consider Lebron James to be the best basketball player in the world.  The chiseled forward led the Cavaliers to the best record in basketball, and he finished as the second leading scorer in the NBA with 29.7 PPG.  Through his incredible accomplishments, James has become one of the leading men for the National Basketball Association.
Unfortunately for the NBA and James, this image came under fire as numerous Internet sites reported that Lebron James was taking steroids.  In fact, these sources also said that there was a positive test to prove he was juicing.  Suddenly, everyone began questioning Lebron's accomplishments and saying "I told you so."  After all, the big and powerful James is an exception in a league where lanky guys still fill up the majority of roster spots.
But league executives were able to breath a collective sigh of relief when it was discovered that all of those Internet news sources were wrong in accusing Lebron James of using roids.  So how do multiple media outlets across the world accuse someone who is arguably the NBA's best player of juicing?
It appears as if a Cleveland Indians minor league baseball player was the source of confusion.  Steven Lebron, who has at least one name in common with James and is affiliated with the same city, recently tested positive for roids and was suspended for 50 games by Major League baseball.
Seeing as how most basketball analysts simply refer to James as 'Lebron', it's understandable how this whole ordeal occurred.  Even still, there are plenty of people who are unhappy that James was even thrown into a steroid rumor.  Some people have even went as far as to suggest that the headlines were purposely posted to make it look as if it was Lebron James who tested positive for steroids just to get people to read the story.  In any case, I'm sure the rumors will die down and things will go back to normal for James… but will they for the NBA?
The National Basketball Association has managed to avoid most of the steroid controversies that other big sports leagues like the NFL and MLB have had to deal with.  And it's a fact that we don't hear about a basketball player getting busted for roids every week like we do with baseball.  But does that mean there is no steroid problem in the NBA?
Many of the aforementioned lanky guys are doing their best to bulk up since basketball has become a more physical game.  6'10" players used to be able to survive in the trenches and play the paint at around 235-240 pounds.  But all of the sudden, these 6'10'' players are weighing in at 250-260 pounds.  And if you're 235-240 then you'd better have a real good jump shot because you won't be much of a post presence.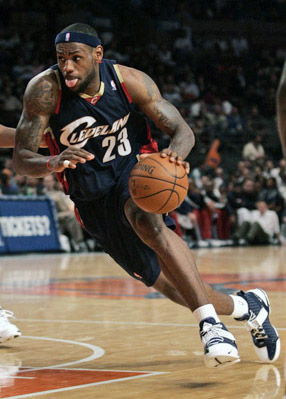 6'10", 230-pound forward Rashard Lewis is one player who has a jump shot, yet isn't much of a load in the paint.  And the Orlando Magic star was looking to bulk up last season before he was busted for using a banned substance.  Lewis took a big hit as he was suspended for 10 games without pay, which caused his contract to take a big hit as well since he lost about $1.6 million.
6'9", 235-pound forward Darius Miles was another casualty of the banned substances list since he had to sit out 10 games before his debut with the Memphis Grizzlies last year.  And while Miles may not be the player that Rashard Lewis is, it was clear that he was using roids in an effort to put more muscle on.
Sure 2 players testing positive for steroids isn't enough to incite panic in the NBA, but it does make you wonder how many other basketball players are juicing since the NBA seems to fly under the radar on this issue while baseball, and sometimes football, take most of the heat.
Another thing to consider is that these players are fighting for millions of dollars and it's the smallest things that can take you from a bench warmer who makes $300,000 to an all-star who makes $12-$15 million a year.  15 pounds of pure muscle could certainly make this difference in some players.
Of course I'm not really as concerned about whether or not these athletes are juicing as opposed to having the ridiculous steroid laws we have today lifted.  After all, what's so wrong about a bodybuilder using steroids in an effort to build their body to peak physical condition?
Unfortunately, we as a society take sports so seriously that the government is more worried about keeping roids out of sports like basketball to prevent "cheating" rather than letting the masses of non-professional athletes juice.
Read more about LeBron James on the EliteFitness.com Forums:
Cavs owner's letter to fans... he rips lebron a new one
Umm... So everyone in the office is talking about Lebron James blah...
hey borris, you're always talking lebron vs. kobe smack
I bet Lebron James' mother fed him GH
Yours in sport,

George Spellwin
Could you really handle having the huge, ripped, muscular body of a top bodybuilder, model or elite athlete?
George Spellwin's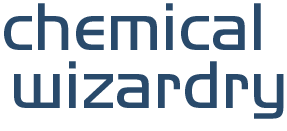 Guaranteed to provide you with the inside information necessary to transform your body into rock-solid, muscular perfection...
... And I don't give a DAMN about your genetics, the bogus supplements you took in the past, or how you look right now!
Plus today and for the next 72 hours only, get 21 free sample steroid cycles, plus
18 HARDCORE STEROID BONUS REPORTS valued at over $650 free. Read on...

[Total: 41 Average: 4.1/5]